Yokogawa Electric Corporation and JSR Corporation have announced the successful conclusion of a field test in which AI was used to autonomously run a chemical plant for 35 days, a world first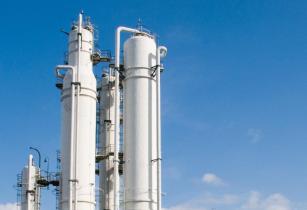 Distillation columns at the JSR chemical plant. (Image source: Yokogawa)
This test confirmed that reinforcement learning AI can be safely applied in an actual plant, and demonstrated that this technology can control operations that have been beyond the capabilities of existing control methods and have up to now necessitated the manual operation of control valves based on the judgements of plant personnel.
The initiative described here was selected for the 2020 Projects for the Promotion of Advanced Industrial Safety subsidy program of the Japanese Ministry of Economy, Trade and Industry.
Control in the process industries spans a broad range of fields, from oil refining and petrochemicals to high-performance chemicals, fiber, steel, pharmaceuticals, foodstuffs and water. All of these entail chemical reactions and other elements that require an extremely high level of reliability.
In this field test, the AI solution successfully dealt with the complex conditions needed to ensure product quality and maintain liquids in the distillation column at an appropriate level while making maximum possible use of waste heat as a heat source. In so doing it stabilised quality, achieved high yield and saved energy.
Masataka Masutani, general manager of production technology at JSR, commented, "In an environment that is changing due to factors such as the fully-fledged introduction of 5G and other developments towards a digital society, as well as the aging of the human resources who ensure plant safety and a lack of human resources to replace them, the petrochemical industry is under strong pressure to improve safety and efficiency in its production activities by utilising new technologies such as IoT and AI."
Takamitsu Matsubara, associate professor at NAIST, remarked, "The reinforcement learning AI FKDPP algorithm was jointly developed by Yokogawa and NAIST in 2018 to realize autonomous control in chemical plants. Despite having to refer to a large number of sensors and control valves, the AI can generate a robust control policy in a limited number of learning trials."
Yokogawa Electric vice-president and head of Yokogawa Products Headquarters Kenji Hasegawa added, "The success of this field test came from bringing together the deep knowledge of the production process and operational aspects that only the customer can provide, and Yokogawa's strength of leveraging measurement, control, and information to produce value."