Parker Hannifin, the global leader in motion and control technologies, has introduced the proprietary ToughShield Plus zinc-nickel surface treatment for all tube fittings and adapters worldwide, bringing the zinc-nickel plating technology in the market to the next level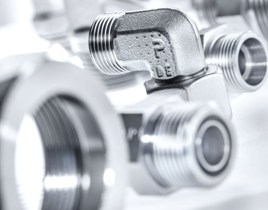 The plating provides excellent resistance for increased corrosion prevention while maintaining optimum properties and assembly values. (image source: Parker Hannifin)
The plating provides excellent resistance for increased corrosion prevention while maintaining optimum properties and assembly values. ToughShieldPlus is the first commercially available standard plating system for fluid power systems to provide up to 3,000 hours of resistance to red corrosion.
The costs of corrosion are significant across all industries. Every day, millions of fittings and adapters are used in the most challenging customer applications where they can be exposed to fertilisers, mud, air pollution, salt in the air, and other aggressive media that can cause rust. Once in the system, corrosion, as an electromechanical reaction, can easily spread to more costly components. Therefore, it is important to prevent corrosion and to keep it out of the system by using the most resistant components. ToughShieldPlus has been designed to save customers time and money with extended tube fitting and adapter life, easier maintenance, and increased resistance to corrosion migration to other system components. Meaning the uptime of the equipment is increased, preventing aesthetic quality concerns and savings on potential warranty costs.
Parker is continuously investing in the further development of its product range to deliver the greatest possible benefit to customers. For the improvement of tube fittings and adapters worldwide, Parker Fluid Connectors Group implemented its own test laboratories and electroplating facilities in Europe and the USA with experienced experts, which have advanced the development of ToughShield Plus. Several years were spent developing the optimum surface and its properties. The basis of the new plating builds on the proprietary zinc-nickel alloy, passivated by a hexavalent chromium free layer. The innovative topcoat provides superior friction and assembly control.
For electroplating, the industry-wide accepted methods were used to test ToughShield Plus. Procedures like Neutral Saltspray Testing (SST) and Cyclical Corrosion Testing (CCT) were used to approve the product. The result: ToughShield Plus offers above-average corrosion resistance of 3,000 hours in the Saltspray test and thus a clear advantage for customers compared to existing solutions on the market.
ToughShield Plus complies with the leading industry standards such as DIN and SAE as well as the environmental standards RoHs, REACH and ELV.