Italy-based Costacurta S.p.A-VICO is helping operators to address production challenges and reduce carbon footprint with its separation technologies, at a time when the industry is facing the challenges of satisfying global energy demand while reducing emissions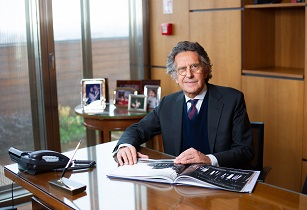 Paolo Mondello, CEO of Costcurta. (Image source: Costacurta)
How do you currently view the Middle East market for your separation solutions, and how are you looking to develop your business in the region?
During the pandemic, many projects were postponed, but we have now started seeing a significant restart of activities in the Middle East.
Our agents in the region are valuable partners, supporting us in promoting our company's separation solutions and assisting us throughout the different phases of a project – from bidding to after-sales.
In addition, our highly experienced sales and technical staff regularly visit Middle East customers to get a deep understanding of their specific needs in the separation field.
Costacurta's focus on gas-liquid and liquid-liquid separation and its strong commitment to customer satisfaction, combined with its technical knowledge and extensive experience in the field, can bring real value to Middle East customers.
How are you helping oil and gas companies to address their production challenges?
The ongoing energy transition is increasingly impacting the oil and gas sector. On the one hand, leading players have to find solutions to produce clean energy, and on the other hand, they must meet the world's immediate energy requirements. For this reason, the efficiency of revamped or new (greenfield) plants has to be maximised and the emissions generated minimised as far as possible.
As Costacurta, we partner with our customers to reach targeted gas-liquid and liquid-liquid separation performance, working on optimising costs and reducing environmental impacts.
With more than 70 years of experience and exposure to separation issues, we have developed an effective approach applicable to both new and existing plants.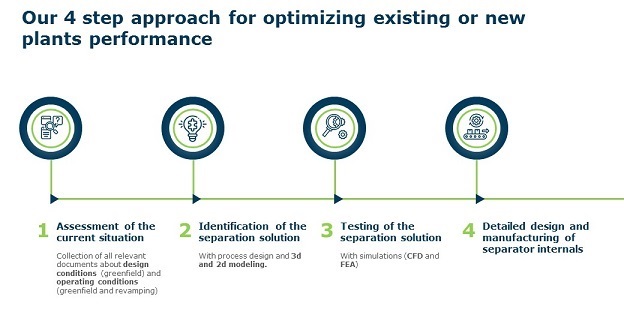 Our process engineering team's expertise, combined with a wide range of separator internals, allows us, when possible, to reduce vessel dimensions and steel consumption in greenfield projects.
An effective choice of internals allows a reduction in the weight and volume of the vessel, resulting in reduced use of steel that, based on the cases studied so far, can range from 20% to 60%.
Optimisation of the separator layout allows, with equal separation efficiency, a reduction in the size and quantity of steel, with direct impacts on the CAPEX, the OPEX and the entire supply chain's emissions.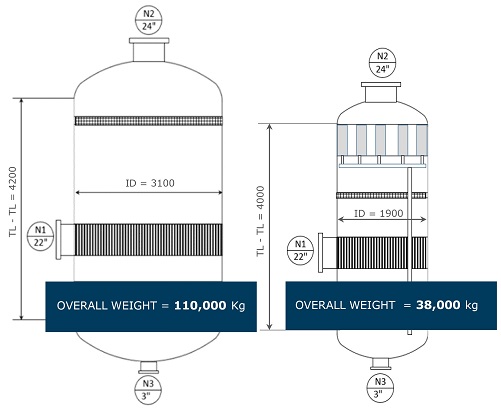 The same approach can also solve separation issues in existing plants. During the life of a separator, its internals can become inefficient for many reasons, including changes in the operating conditions and the characteristics of the process fluids, the need for maintenance or the formation of bottlenecks caused by obsolete or damaged components.
To meet the global demand for oil and gas while minimising investment in new plants, revamping existing plants can help improve separation performance and increase the productivity and use of existing wells and plants.
Using more efficient internals can improve separation performances without replacing the existing vessel, thus minimising both OPEX and CAPEX. Costacurta can adapt the separation unit, offering assistance in examining the problem, proposing possible solutions and then designing and supplying the internals for revamping the separator.
What importance do your customers attach to sustainability, and how are you helping them achieve sustainable operations?
Reducing the carbon footprint is fundamental in achieving the goal of net zero emissions by 2050. It is even more so for the oil companies and energy players at the heart of the energy transition.
As mentioned, optimising the layout and, consequently, the size of the vessels can enable the same separation performance to be achieved more efficiently, minimising CAPEX and OPEX, as well as direct and indirect emissions.
Choosing a climate-conscious supplier can also positively impact the calculation of your company's carbon footprint.
Costacurta's management systems are certified by Lloyd's Register Quality Assurance (LRQA) in accordance with ISO 14001 (Environmental management system) standards. According to the resources consumption measurement we perform every year to maintain our ISO 14001 certification and to achieve our continuous improvement goals, Costacurta is a low-impact company in terms of emissions into the atmosphere, energy consumption and the consumption of natural resources.
Moreover, this year Costacurta introduced a process to better measure, manage and ultimately reduce its greenhouse gas (GHG) emissions. The company began this process by conducting an energy audit and calculating its carbon footprint in order to define a strategic plan of repositioning in a green perspective.
Are there any technology or product developments you have introduced recently or are looking to introduce?
Beside its strong commitment to sustainability and carbon emission reduction, Costacurta is also investigating the possibility of providing its mechanical engineering and production knowledge and experience to companies that are developing solutions to produce green energy and reduce carbon emissions.
It is a long journey that will require time, effort and perseverance before coming up with new products and services. Costacurta has structured an internal team focused on analysing two transitions: the energy transition and the transition towards a circular economy. The analysis aims to understand the pace and direction of the transitions with the primary objective of developing relationships with universities, research centres and companies involved in developing green technologies.
Costacurta is highly motivated to contribute to the achievement of global environmental sustainability goals by participating in projects aimed at developing components in the field of green technologies.