Ikon Science, a leading global provider of geoprediction and open subsurface knowledge management software and services, has introduced updates to its subsurface knowledge management software, Curate 2023.2, and RokDoc 2023.2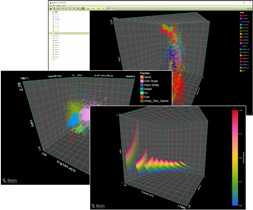 RokDoc 2023.2 3D Crossplotter. (Image source: Ikon Science)
Curate 2023.2 offers greater flexibility, efficiency, and a more user-friendly data organisation and visualisation experience. It includes several new features, such as a preview option for datasets, the ability to colour-code wells on map views and an upgraded search and filter function in the Data Explorer app. Curate's comprehensive and easy-to-use platform provides users with quick and easy access to all subsurface data, enabling them to have a greater understanding of the subsurface to make well-informed business decisions.
Curate 2023.2 also features significant enhancements to its administrative side, which allows teams to work collaboratively and share data effortlessly. The platform adds crucial value for enhanced efficiency in field operations.
"These improvements to the Curate platform are expected to deliver immediate benefits to all users," said Monica Beech, product manager of Data Management and Visualisation at Ikon Science. "Our goal is for every Curate user to access data quickly and create knowledge from it, leading to improved business decisions."
RokDoc 2023.2 expands functionalities in machine learning (ML), rock physics, and provides new visualisation measurement tools to document success.
The new release features the addition of Extreme Gradient Boosting (XGB), one of the most popular and best algorithms for regression and classification problems. XGB is built using supervised machine-learning (ML) decision trees, ensemble learning, and optimised gradient boosting techniques. It focuses on speed, flexibility, and model performance. The latest developments improve ML workflow results while providing data statistics plots to support geoscience workflow documentation.
In this release of RokDoc, Ikon Science has made inversion QC easier with a track manager to ensure user-made track-ordering changes occur across all wells. Vertical zoom and user-added tracks are preserved upon re-calculation of the inversion for results comparison and documentation. Work becomes more efficient with less time focused on visual settings and more time spent refining results.
"Today we launch version 2023.2 of RokDoc, which focuses on useability and visualisation. Users can now interrogate and understand data to explore implications of elastic and petrophysical property variations more deeply," said Alan Mur, product manager for QI Applications, Ikon Science.