Richard Irwin, solution marketing manager, Bentley Systems discusses how digital technology can help the oil and gas industry achieve a carbon neutral future
Richard Irwin, solution marketing manager, Bentley Systems. (Image source: Bentley Systems)
Hydrocarbon producers face mounting pressure to become climate resilient, reduce carbon emissions, and focus on revenue streams from renewables.
There are numerous trends affecting hydrocarbon producers who are still carrying out upstream operations while transitioning into renewable alternatives, and their concerns focus on the type of digital technology solutions that can help them achieve their goals. Specifically, they want to ensure that the skills and knowledge gap is kept to a minimum, overcome challenges managing and optimising current operations while reducing the environmental impact, and solve the data problem of how to manage and extract value from the vast amount of generated data and to prevent it being inaccessible to everyone.
Going digital
One of the main challenges the industry encounters that prevents oil and gas producers from achieving a fully digital solution is the ability to pull together information from many different data silos. In addition to pulling together siloed data, there is the question of how the oil and gas industry can calculate the return on investment (ROI) from digital and business transformation solutions, where data attributes and data integration are primary and fundamental deliverables. There is no single answer, as ROI can be calculated in many ways. Recent improvements delivered by a more collaborative supply chain, working with common data and information, has further improved execution performance. Critically, these improvements have facilitated better decision-making, resulting in fundamentally better solutions.
Better solutions are essential if the industry is to meet the immense challenge of "net-zero" and are critical for reducing workforces and developing the flexibility to deploy the best skill sets. Digitisation is simply essential to ongoing operations, and imperative for companies to remain competitive and safe.
Incorporating analytics and machine learning techniques to reliability solutions – such as the AssetWise services that Bentley provides – enables the connectivity, interoperability, visibility, and insights that were previously hidden within these data silos. These solutions provide a more holistic view of performance and reliability across operations around the clock, as constant monitoring and reporting can show early indicators of future events or problems. These solutions can provide a variety of use cases to help reduce emissions and achieve the net zero goal.
How to start a journey to net zero
The rising environmental, social, and governance (ESG) imperative will, to a large extent, define overall producer strategies, as ESG excellence could be viewed as a competitive advantage. Oil and gas companies are increasingly looking to digital solutions like digital twins, data platforms, and other technologies to move beyond monitoring to emission controls, proving that they are taking a step in the right direction. One of the first things that operators can do now, if they haven't already started, to reduce their carbon footprint is to optimise their operations. If everything is running smoothly and as intended, then energy expenditure is minimised.
The first step is to prevent failures that cause equipment to run outside of optimal efficiency, or even cause shutdowns. Having a robust asset performance management strategy in place is a must. An example of how to establish an asset performance management strategy comes from OQ Upstream, an integrated energy company that operates and manages dozens of plants, thousands of assets, and over 4,500 km of pipeline across Oman. In their 2022 Going Digital Awards in Infrastructure submission, the winner in the Process and Power Generation category, OQ digitised their asset performance management activities. As a result, they could recognise the impact on the reliability growth and the reduction of failures and unplanned downtime, resulting in a growth of asset reliability while significantly reducing functional failures, unplanned work orders, and maintenance costs.
Other ways of optimising operations are monitoring and managing your assets more effectively. An example is Cairn Vedanta in India. Using AssetWise 4D Analytics from Bentley, they captured all well integrity and flow assurance data from over 800 onshore and offshore wells. They aggregated data from multiple systems into one solution, and by using analytics, they created a near real-time picture of asset health and performance. They could then identify which wells were performing against cost after stimulation. Having the data helped them to decide whether they should continue, retire, or make changes to the well, resulting in improvements to both emissions reduction and costs. It enabled them to move to a proactive approach toward integrity management to eliminate possible failures or rectify them as soon as possible, creating a more sustainable operation.
The role of the digital twin
These optimisation techniques can now be offered within digital twins. A digital twin is a virtual representation of real-world entities and processes, combining engineering and design data/models, with operational and IT information. Digital twin systems transform businesses by accelerating understanding, supporting optimal decision-making, and enabling effective action.
The benefits a digital twin brings to any digital operation are attractive, including:
• Enabling automated, remotely operated, minimally manned, highly efficient, and more sustainable assets.
• Providing an accurate and reliable source of information across the whole lifecycle of the asset.
• Accessibility across multiple teams, from engineering design and handover through to operations and maintenance.
• Providing facilities for training and familiarisation of operations prior to on-site visits.
• Multidiscipline integration of third-party models, data, and information into one application.
• Improving overall decision-making with the addition of simulation and predictive capabilities.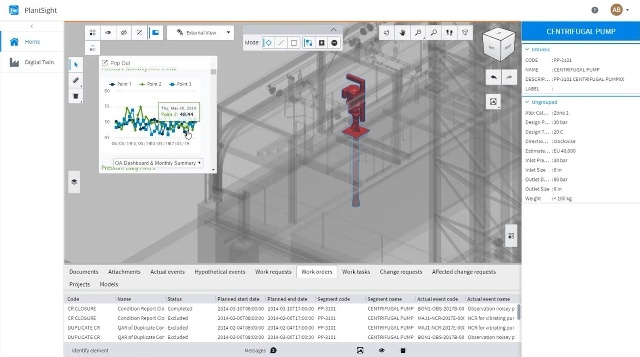 To date, the focus has been on how to build digital twins, and the foundations are there in applications such as PlantSight and AssetWise from Bentley. However, what is becoming increasingly important is how organisations keep those digital twins – the complete set of information about their assets, not just models and engineering – up to date and accurate. How do those organisations connect to their supply chains, maintain an open choice, and collaborate effectively on a global scale? Adopting these practices will define the next five years in the oil and gas and energy industries. New organisations entering the market will be the catalyst for this change. The other axis of change will be connectivity between the digital twin and operational and transactional systems. New approaches to federation and integration are essential, and the packaged integration tools that are available are leading the way in delivering these integrations in the industry.
Overall, digital twins can improve asset operators' situational awareness and optimise asset performance by modeling dynamic behaviour. As a focal point system for asset operations,digital twins have the significant potential to improve oil and gas companies' asset and business performance. The oil and gas industry is already a leading adopter of digital twins, as evidenced by the inclusion of the 2022 Going Digital Awards finalist Shell and their Deepwater Project Delivery Digital Platform. This project uses a digital twin created with PlantSight to aggregate data from various sources and provide a comprehensive picture of the project, leading to clarity and alignment among the diverse teams working on the project.
Oil and gas companies need to partner with vendors that have the expertise, domain knowledge, and technology. Bentley applications, for example, have been used for a long time in renewable energy projects from design to operations in solar, offshore and onshore wind, hydroelectric, and other sources to make the energy transition smoother. While digital twins are only one of the options available to reach the goal of a net-zero emissions future, they remain a key focus of the digitisation process and of the oil and gas industry.
Richard Irwin can be reached at This email address is being protected from spambots. You need JavaScript enabled to view it.