Ecobank Transnational Incorporated has signed an agreement with OiLibya for the distribution of digital financial services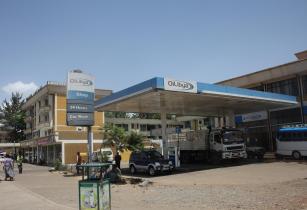 (Image source: Arne Huckelheim/Commons)
Ecobank signs framework agreement with OiLibya for distribution of digital financial services The contract empowers OiLibya teams to distribute a variety of digital financial services across the continent in partnership with Ecobank in accordance with local regulations.
Ecobank leverages the power of digital to deliver convenience to its customers. Ecobank Mobile App, Ecobank Masterpass Merchant QR, Ecobank XpressAccount, Internet banking, Pan African Card, Automated teller Machines, Points of Sale are just some of the digital services that Ecobank has created to make banking easier, more accessible and cost-effective than ever before.
Ecobank Group CEO Ade Ayeyemi said: "This partnership with OiLibya demonstrates our commitment to bring affordable banking to the doorstep of every African, as we seek to serve 100 million customers by 2020. Ecobank believes it is the right of every African to have access to financial services and we are leveraging digital, mobile and retail chains across Africa to provide ubiquitous ebanking. This will help unlock opportunities for small and medium African entrepreneurs, eliminate inefficiencies, unleash productivity and spread opportunities across society to speed up growth."
Libya Oil Holdings Ltd CEO Mr. Ibrahim Bugaighis said: "We are pleased to partner with Ecobank to bring financial services to customers more conveniently through our network of service stations, and thus help improve their accessibility. OiLibya is a leading distributor of petroleum and convenience products on the African continent. This partnership with Ecobank is in line with our vision of contributing to the economic and social development of Africa."
OiLibya service stations are increasingly evolving to become multi-service destinations, offering not only fuels and lubricants but also auto care services, convenience stores, restaurants, cash points and much more. Giving easy access to financial services has the potential to unlock enormous lifestyle, business and other financial opportunities to our customers and partners across Africa. In Africa, where virtually everyone has a mobile phone, OiLibya is partnering with Ecobank to enable customers to safely make digital financial transactions and help open up reliable, innovative and convenient financial services to population centers with limited banking facilities.