Avaya has announced that it has been selected by Bahrain Petroleum Company (Bapco) to transform its network infrastructure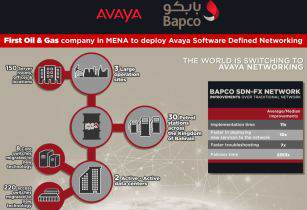 Bapco is the first company in the MENA region's oil and gas sector to deploy Avaya SDN Fx fabric networking. (Image source: Avaya)
In line with its business objectives of digital transformation and rebranding, Bapco will deploy Avaya's next-generation fabric networking technology to power the corporate network across its locations in Bahrain, enabling the company to securely and seamlessly add services and devices in the Internet of Things (IoT) era.
With this, Bapco will become the first company in the MENA region's oil and gas sector to deploy Avaya SDN Fx fabric networking. The technology will give Bapco a future-proof infrastructure that automates and simplifies deployment of new services while it reduces the potential for human error, outages and negative impacts on business processes.
The new network infrastructure will provide connectivity for a range of services, including voice, data, CCTV, video, digital signage, and more. Accordingly, Bapco requires a networking platform that is secure, flexible, scalable and robust, and capable of separating applications using the same physical network. Avaya's network architecture achieves these goals, and provides effortless and efficient network roll-out of devices and services, while ensuring reliability in delivery and network access.
The technology will enable Bapco to safely and securely take advantage of emerging trends such as cloud, mobility and the IoT. Avaya SDN Fx fabric networking enables the company to use end-to-end hypersegmentation within their network to create separate or 'stealth' traffic lanes for select services and applications. This also, provides the elasticity needed to protect the 'everywhere perimeter' that comes with the increase in mobile devices and connected 'Things'.
Daij Khalifa, manager - information technology, Bapco, said, "We are always looking at how we can use technology to further our leadership in the oil and gas sector. We require a networking infrastructure that can meet our needs for today and enable us to deliver the services required in the future. Avaya's state-of-the-art technology will deliver the resiliency, scalability and security to ensure there is no impact on business processes, while simplifying the provisioning of new services as and when required."
Mohammed Areff, vice-president, Avaya Middle East and Turkey, Avaya, added, "Avaya's next-generation SDN-Fx technology is continuing to make inroads with some of the most iconic companies in the region, and we are proud to be working with an industry leader and innovator such as Bapco. This project symbolises our commitment to Bahrain, and highlights the importance to us of this key growth market."