Leaders in the oil and gas sector were introduced to the Aveva Engage 3D visualization software at the Microsoft Technology Sector in Dubai, on 19 December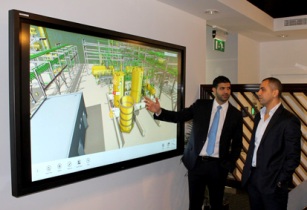 Aveva Engage in use at the Centre of Excellence for Oil Gas in Dubai. (Image source: Aveva)
Microsoft have welcomed oil and gas leaders to its new Middle East and Africa center of excellence in Dubai. This is in a response to the oil and gas sectors upward trends of utilising software to increase efficiency.
According to the 2016 Upstream Oil and Gas Digital Trends Survey, hosted by Microsoft in association with Accenture, 80 per cent of upstream oil and gas companies plan to increase spending on digital technologies in order to help them drive a more efficient business process.
The center of excellence is set to take advantage of this trend. Microsoft have realised the upward trends for the oil and gas sector and their uptake in the latest trends such as the Internet of Things (IoT), advanced analytics, modern productivity and cloud engineering and computing.
"Digital transformation is top of mind for executives in the Oil and Gas industry, which is why this center of excellence was built," said Omar Saleh, director for Oil and Gas at Microsoft, Middle East and Africa. "With Aveva, we provide our customers with specialist knowledge and access to solutions that enable the creation of some of the world's most complex oil & gas plants, vessels and offshore facilities."
Attendees are the workshops can see how Aveva Engage puts immediate and easy access of useful information at their fingertips. According to Aveva, Engage "seamlessly connects engineering documents, models and data to an ultra-high definition 3D visualization of an asset on Microsoft Surface Hub, a powerful team collaboration device designed to advance the way people work together naturally. Surface Hub encourages the multi-discipline consensus building and decision making needed when building and operating complex oil or gas facilities."
"Throughout an asset's life cycle, accurate and relevant information is essential to decision making. Aveva is redefining how, in oil and gas, companies can access and retrieve this information, using Office 365 to tear down the interdisciplinary boundaries." explained Mohamad Awad, Regional Vice President for AVEVA. "In these workshops we will be able to show how this technology is helping our customers to cope with the increasing pressures of lean design, capital stewardship and operational reliability."
More information on the center of excellence, including registering for a session can be viewed here.