Seismic technology company STRYDE is expanding its presence in the Middle East with a new multi-purpose warehouse in Dubai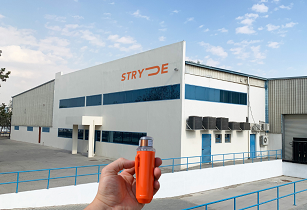 STRYDE is expanding its presence in the Middle East with a new warehouse in Dubai. (Image source: STRYDE)
The new site, located in the Jebel Ali Free Zone, in Dubai, has the capacity to stock more than one million land seismic nodes, available to purchase or lease, and hold the company's containerised node management systems, designed specifically for large-scale seismic surveys across the Middle East, Africa, India, Australia, and the Far East.
The warehouse will also offer classroom and practical training facilities for STRYDE users along with the ability to learn node deployment and retrieval activities in its secure yard. Based in one of the most powerful business ecosystems in the world, the new Middle East hub will enable the business to support fast mobilisation to its customers and continue its growth across the globe.
As the world's smallest, lightest, and most affordable nodal seismic imaging system, STRYDE's seismic solutions are used widely across the energy sector during E&P. The nimbleness and affordability of the technology is also playing an increasingly vital role in the development of emerging new energies and geotechnical risk studies.
Kevin O'Connell, head of Field Operations at STRYDE said, "We're very excited to be opening our multi-purpose warehouse in Dubai to service recently awarded contracts. Having a dedicated training facility and a base for our team of expert field support engineers will enable us to provide real-time support to our customers."
STRYDE, which currently employs 63 people across the world, has already recruited two new employees for the site, who will join Sam Moharir and Kevin O'Connell in Dubai, with plans for further recruitment in 2023.
Mike Popham, CEO commented, "I'm delighted that STRYDE is moving into our new home in Dubai! We look forward to increasing our workforce in the Middle East over the next year as we continue to support the unrivalled demand for our game-changing land seismic technology and our fast-track data processing solutions."
Sam Moharir, head of Business Development for STRYDE in MENA added, "The past 24 months have been transformative for STRYDE in the Middle East, with well over 400,000 nodes working in the region across 12 separate campaigns, including the world's largest nodal seismic survey. We are continuing to see demand for our technology increase exponentially as the desired cost and operational benefits of nodal seismic acquisition becomes a reality."
Speaking to Oil Review Middle East at ADIPEC, Moharir commented that while oil and gas is the primary industry for the company in the Middle East, it is also increasingly involved in areas such as carbon capture and geothermal, for which there is strong potential in the region.
Moharir also highlighted the HSE and sustainability benefits of the nodal seisimic imaging system. "Thanks to this node being so small and light, you can use smaller vehicles, so from an oil company perspective it lessens the HSE risk, and helps to lower carbon emissions by reducing the number of people and vehicles needed at the well.
"We're very positive about prospects in Middle East, given the focus on increasing production to take care of global needs," Moharir concluded. "The need for seismic, whether for oil and gas, geothermal or CCS will keep increasing, and STRYDE is in an ideal position to capitalise on this, given we have a great product which also brings benefits in terms of the HSE and environmental aspects."