Daniel San Bernardino, ZALUX business developer manager for hazardous area lighting and EPC projects, explains how the company aims to ensure safe operations in refinery work through lighting solutions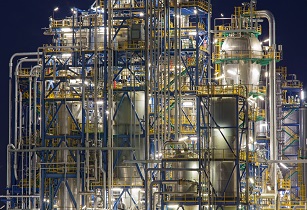 Ensuring well lit, safe working conditions is the highest priority to ZALUX. (Image source: ZALUX)
As hazardous areas, refineries present a challenging environment for lighting solutions. A combination of harsh environmental conditions and the need for high quality lighting to help ensure safe operation mean lighting systems need to meet stringent requirements. But what do modern lighting systems offer, and what factors should operators consider when selecting luminaires to cover the varied needs of areas throughout the plant?
The challenges of a refinery environment
Ensuring safe operation is the highest priority for ZALUX and our lighting solutions meet strict safety standards in accordance with ATEX and IECEX, as well as the most demanding of end-user specifications. They guarantee excellent performance and lighting in even the most challenging areas found throughout a refinery.
ZALUX latest technology digital LED lighting solutions meet differing location requirements and reduce maintenance overheads. They deliver energy savings, increased sustainability, resistance to chemicals and environmental elements, longer life, and easier installation and maintenance. For refineries operating 24/7 they can significantly lower ongoing energy costs and provide excellent ROI.
Reducing energy costs
LED technology is both sustainable and proven. It can reach remarkable levels of efficiency and performs two or even three times better than traditional technologies, equating to 50% saving in energy. With the integration of smart technologies, which ensure luminosity is at the right level when and where it is needed, a ZALUX lighting solution can net around 80% operational cost savings compared with traditional technologies.
Ensuring great performance
By using resilient PMMA materials, ZALUX luminaires offer a lightweight, robust solution to ensure safe, easy handling and installation. They have a wide temperature operating range (> 55ºC) and, for extreme temperatures, our OREx luminaire can operate in an ambient temperature of 75ºC.
Reducing installation and maintenance overheads
ZALUX LED technology offers up to 10-times longer useful life than conventional technology, significantly reducing maintenance overheads. Units can directly replace traditional fluorescent units and versatile mounting options, and wireless intelligent controls further simplify installation, optimise life expectancy, and enable data collection to facilitate predictive, rather than time-based, maintenance.
Meeting the wide and varied needs of a refinery
By selecting ZALUX, you are choosing a single vendor, registered with EPC and end users, that can meet the diverse requirements needed throughout a refinery.
For example, an Ex Zone 1 tank storage area outdoor luminaire must provide high quality lighting so operators can safely carry out maintenance tasks. However, it may be exposed to direct sunlight, high temperatures, wind, and rain. Our PMMA profiles offer excellent chemical resistance, robust construction, and UV protection. The ZALUX STRONGEx G2 zone 1 luminaire offers a great solution to this environment.
An Ex Zone 2 processing area has structures around pipeline areas and luminaires may be exposed to dust, dirt and weather. The versatile and weatherproof ZALUX ACQUEx incorporates a polycarbonate diffuser with UV protection, prismatic design for great light distribution from high ceilings, and exceptionally high efficiency for long life and reduced maintenance.
Lighting is an important safety and energy consideration for a refinery, but each installation has varied and demanding requirements. ZALUX digital LED solutions are holistically designed to provide sustainable solutions that ensure long life, reduced maintenance, optimised energy usage, and safe, reliable performance.