Rittal has been awarded the "Top 100 Innovator" seal for 2023, the most important award that can be received by medium-sized companies in Germany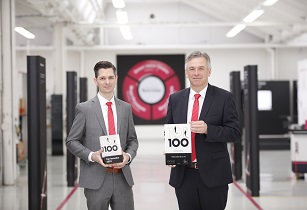 Markus Asch (r.), CEO of Rittal International and chairman of the Management Board, with Philipp Guth, CTO of Rittal. (Image source: Rittal)
In the 30th "Top 100" innovation competition, Rittal impressed the scientific management of compamedia, organiser of the awards, especially concerning innovative processes and organisation.
"We are delighted to have been named one of Germany's Top Innovators," said Markus Asch, CEO Rittal International and Rittal Software Systems: "In association with our sister companies in the Friedhelm Loh Group, we are mainly concerned with the question of what our customers will need tomorrow to stay future-proof and competitive? We're convinced that innovation extending beyond products and solutions is the answer." Thinking in terms of customer processes, consistently optimising these processes, and creating sustainable added value along the value chain is the company's mission and driving force.
What does that mean? "Nowadays, efficiency and productivity are critical business factors for our customers, as are the increasing complexity of customer requirements and a rapid rate of change. Products and solutions are no longer enough to remain competitive," said Asch. "For Rittal, innovation thus means making the customer's all-around performance successful. To do this, we must develop platforms now, and think in terms of new ecosystems. We can quickly develop the solutions for future scenarios on this basis."
Philipp Guth, Rittal's chief technology officer, is convinced that this will always call for a combination of hardware and software.
"When you no longer think in terms of products and systems, but rather in terms of optimised value chains, then you can only do that by combining both worlds."
The jury awarding the prize has now confirmed that the company – as a whole – has focused on this innovativeness. The "Top 100 Innovator" competition is based on an independent selection procedure, which uses more than 100 criteria from five categories to examine SMEs. The criteria are senior management that promotes innovation, the innovation climate, the innovative processes and organisation, external orientation/open innovation, and innovation success. Rittal has now received the award for the third time.