JAGGAER, the global leader in autonomous commerce, underscored the importance of embracing Industry 4.0 and utilising AI, Machine Learning, and predictive analytics as a way of reducing risk and cost savings in the oil and gas supply chain, during the opening day of the MENA Downstream Digital Transformation Conference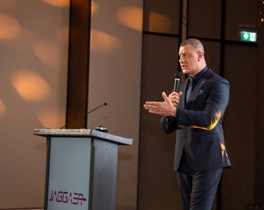 Hany Mosbeh, senior vice president, Middle East and Africa, JAGGAER. (Image source: JAGGAER)
The two-day conference, sponsored by JAGGAER, addressed the transformation of the industry as a result of various factors, including COVID-19, fluctuating oil prices, and the push for Net Zero agenda by 2030, all of which have led to the increased digital transformation and technology integration within the sector.
Hany Mosbeh, senior vice president, Middle East and Africa, JAGGAER, said, "The oil and gas industry is a complex and ever-changing environment. It is an industry that depends on an extensive supply chain, which, as we've seen in recent years, is highly susceptible to changes due to various macroeconomic factors. Production and operations are typically high-cost, high-risk and capital-intensive.
"With the right technology in place, organisations can have a more agile and resilient supply chain and remain competitive. Our source-to-pay solution provides end-to-end automation of the entire procurement lifecycle, providing transparency, improved supplier relations and potentially millions in savings for organisations.
"By leveraging emerging technologies such as AI, advanced and predictive analytics, machine learning and embedded intelligence, we're freeing customers from the mundane, providing deeper data for more strategic decision making and predicting and mitigating risk."
Many oil and gas companies are adopting various technologies to enhance operational efficiencies, cut costs and optimise manual processes. It is expected that the implementation of these new technologies could save the industry over US$200bn, according to Accenture. At the same time, the International Energy Agency has predicted that the widespread use of existing digital technologies in the oil and gas sector could decrease production costs by 10% to 20%.