Honeywell is to open an advanced regional manufacturing centre at the King Salman Energy Park (SPARK), Saudi Arabia's new energy industrial zone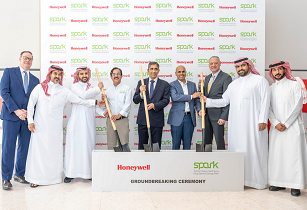 The new facility will become Honeywell's eighth site in Saudi Arabia. (Image source: Honeywell)
The new facility will become Honeywell's eighth site in Saudi Arabia, reflecting both the company's strategic growth objectives in the Kingdom and its support for Aramco's In-Kingdom Total Value Add (IKTVA) programme to advance local capabilities in research, development and manufacturing of cutting-edge technology.
The facility will include engineering, manufacturing and assembly lines spanning Honeywell's industrial automation and control equipment, field instruments, rugged mobile computers, gas detection equipment, fire safety systems and building management systems hardware. Additional capacity for potential future manufacturing expansion, as well as customer demonstration facilities, is also planned.
Abdullah Al-juffali, Honeywell's president of Saudi Arabia and Bahrain, said, "The ground-breaking of our new facility at SPARK represents a significant investment and an important milestone in Honeywell's long history of partnership Saudi Arabia, which dates back to 1948. We are proud to support Saudi Arabia's most important companies in localising and developing innovative technologies to advance critical sectors of the economy. SPARK is the perfect location for us to continue our journey of investment, localisation and growth in the Kingdom in-line with its sustainability goals and broader Vision 2030 objectives."
The new facility will be developed in phases, with Phase One expected to be completed in 2024. Honeywell broke the ground for the facility at a ceremony attended by a delegation of global and regional Honeywell executives including Vimal Kapur, president and chief operating officer; John Waldron, senior vice president and chief commercial officer; Ben Driggs, president Global High Growth Regions; and Mohammed Mohaisen, president and CEO, Honeywell Middle East and North Africa, as well as and senior leaders from SPARK and Aramco.
SPARK's president and CEO, Saif Al Qahtani, said, "We are delighted to welcome Honeywell to SPARK, in support of our localisation objectives and commitment to expanding Saudi Arabia's capabilities as a manufacturing and engineering powerhouse for the region's energy sector. Honeywell's investment in our ecosystem will contribute to local economic growth and help create more job opportunities for Saudi nationals in advanced technology sectors."
SPARK is being developed into a 50 km sq industrial ecosystem designed to capture the full value from the energy value chain by acting as a principal gateway for the region's energy sector. It contributes to Vision 2030 by supporting the Kingdom's efforts in building a strong economy through diversification and localisation of key sectors.