The industry tradition of the heavily crewed vessel and large carbon emissions is being challenged by remote and autonomous technology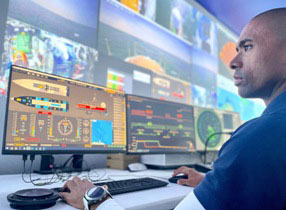 Fugro's recent introduction of remote operations will facilitate efficient, safer and more sustainable operations. (Image source: Fugro)
Over the years, this tradition-driven industry has embraced various innovative technologies, and Fugro's recent introduction of remote operations will be a massive leap to efficient, safer and more sustainable operations.
Taking people out of the equation when it comes to dangerous environments is a positive step forward for the maritime industry. Any remote operations technology that provides remote offshore positioning facilitating technical responsibilities can help companies manage their offshore assets without the risks of having personnel in hazardous circumstances.
Remote and autonomous solutions can perform the most difficult offshore tasks, allowing experts to deliver projects from onshore locations safely out of harm's way while experiencing a healthier work-life balance. In turn, this allows a significant reduction in downtime, and 24-hour operations.
An important consequence of using lighter, uncrewed vessel is the significant, up to 95%, carbon emission reduction. This is achieved not only by having smaller vessels but by eliminating the need to fly experts from around the world to staff an operation. With the ability to connect digitally with the right experts from anywhere in the world when needed, Fugro is able to offer faster and better-informed decision-making at the click of a button.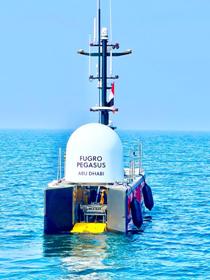 AD Ports and Fugro recently announced their partnership on bringing remote and autonomous technology to life in the Middle East with Fugro's first in the region uncrewed surface vessel (USV). The Fugro Pegasus, a class-built 12 m USV, set sail for the first time in the UAE during ADIPEC 2022, where the vessel was operated live from the Fugro stand.
Captain Mohamed Al Yahyaei, chief harbour master, AD Ports Group said, "By signing this new agreement with Fugro, we are expanding the range of remote and autonomous technologies available for the maritime sector, as we strive to build a safer, more sustainable and more impactful future."