International seismic technology and processing company, STRYDE, has sold an additional 18,000 onshore seismic sensors to Explor in a seven-figure deal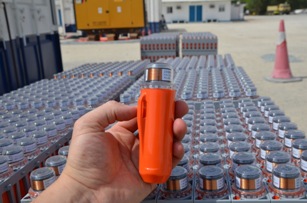 Explor has purchased an additional 18,000 STRYDE nodes. (Image source: STRYDE)
Explor, a global seismic acquisition contractor and technology company, has purchased an additional 18,000 STRYDE Nodes, expanding its system following three highly successful years using STRYDE. During this period, Explor has acquired high-resolution seismic for more than 15 clients spanning multiple industries, including carbon capture and storage (CCS), oil and gas, mining, helium exploration, civil engineering, and geothermal.
As the global demand for energy increases, companies need high-resolution images of the subsurface to make informed investment decisions for development.
Until recently, the acquisition of seismic data was an extremely expensive phase of an exploration project, but with the introduction of miniature, wireless seismic sensors, companies can reduce costs and timelines, meaning seismic data is no longer an exclusive product for the oil and gas sector, and land seismic is now being widely used to de-risk exploration and development projects in CCS, geothermal, mining and civil engineering markets.
The STRYDE Node is currently the smallest, lightest, and most affordable onshore wireless seismic sensor available on the market according to the company, meaning Explor and its end clients benefit from significant cost savings, operational efficiency gains, smaller crew sizes, reduced HSE exposure and a lower environmental footprint.
Along with the company's state-of-the-art nodal technology, Explor also purchased the company's Nimble System, a compact and portable node management solution that allows a single operator on shift to charge and harvest data from 1,620 nodes every 24 hours, allowing Explor to drive further efficiencies on conventional and high-density seismic surveys.
Mike Popham, CEO at STRYDE, commented, "Explor was the first company to adopt STRYDE, so I'm particularly delighted that three years on, following many successful projects, Al and his team have decided to further expand their system with this purchase. This agreement, coupled with Explor's continued success is yet another indication to the market that STRYDE delivers what we promise to our clients: higher image quality, sizeable operational efficiencies, reduced HSE exposure and a significantly reduced environmental footprint."
This latest deal has resulted in more than 500,000 STRYDE Nodes being used across multiple sectors in the last three years since the company was formed, making STRYDE the leading provider of nodal technology for onshore seismic surveys.