Estedama, a fully-integrated environmental solutions service company based in the Eastern Region of Saudi Arabia, has announced plans to invest in a contaminated soil wash plant designed and engineered by CDE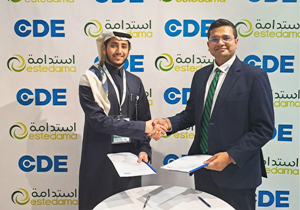 Faleh Aldossary, general manager, Estedama and Ruchin garg, CDE regional manager for the Middle East and Africa. (Image source: Estedama)
The wash plant will be commissioned at Estedama's Al Damman facility where it will process a range of oil-contaminated waste materials from around Saudi Arabia.
Soil washing involves the recovery of reusable materials from soils, often extracted from oilfield and drilling sites containing pollutants, organics and other contaminants. Estedama's wash plant will process a range of feed materials, including oil-contaminated soils from pipeline punctures, drilling waste and more. Contaminated soils typically contain valuable sand and aggregate resources that can be recovered in a range of specifications, cleaned and reused by the construction industry for a variety of applications.
Faleh Aldossary, general manager, Estedama, said, "It is our vision to be the leading fully integrated industrial waste management entity in Saudi Arabia, contributing to the circular economy initiatives set by 2030 vision. We are always exploring the potential for new strategic partnerships with forward-thinking and innovative technology providers who we believe can help us to make that vision a reality.
"The adoption of new and improved technology is fundamental to achieving this, and we see CDE as an important partner whose expertise and reputation in the field of soil remediation will support our company to transform how contaminated soils are managed in the Kingdom of Saudi Arabia."
CDE regional manager for the Middle East & Africa, Mr Ruchin Garg, said, "We're confident our technical response will equip Mr. Aldossary and the Estedama team with the technology to strengthen its market position and deliver a long-term sustainable means for the management of oil-contaminated waste streams."