Digitalisation plays a key role in risk mitigation for asset management, says Debabrata Chakraborty, regional director – MEA & Turkey, Bentley Systems
Technology has been advancing at a breakneck speed, providing energy companies that implement it throughout their operations with additional benefits. It has helped boost business transformation, further enhancing decision-making processes and achieving decarbonisation objectives. Latest innovations have supported businesses in a number of ways, with technologies such as AI, robotics, and automation transforming the working methods into a seamless experience, while also safeguarding manual workers from hazardous working conditions.
ADIPEC, one of the world's most influential gatherings for the energy industry, held in Abu Dhabi from 31 October-3 November, made the significance of technology evident in its 'Digitalisation in Energy' exhibition. The exhibition serves as an ideal forum for the global energy industry, facilitating sourcing of latest technological innovations to improve efficiency, uncover untapped value and opportunities, and optimise costs in the energy sector.
One of the key takeaways from ADIPEC was digitalising the energy sector and showcasing modern and innovative solutions that assisted the sector to focus on both capital and operational efficiency, deliver optimum return on investments, and integrate technology at each production stage.
Among others, the highlights of the exhibition for digitalisation in asset management stood out for most energy companies. Asset management is essentially a cost-effective system of developing, operating, maintaining, upgrading,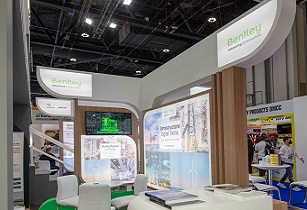 and disposing of assets, which could be seen in AssetWise Reliability, one of Bentley Systems' products showcased at ADIPEC 2022. The system has been designed to assist in enhancing asset performance and reduce costs incurred. It can further transform data into real-time information with advanced analytics that helps improve operational performance.
OQ, an integrated energy company in Oman, leveraged this solution by Bentley Systems to develop a centralised digital asset performance management (APM) system, which has resulted in the company being awarded winner in the Power and Process category at the Going Digital Awards, held in London from 14-15 November. The company operates and manages numerous plants and assets, along with a 4,500 km pipeline across Oman. OQ aimed at digitalising asset management processes to enhance asset performance and reliability, further ensuring safe and secure operations at the plants. Due to the high cost and inefficiency of paper asset data and previous reactive maintenance records, OQ realised the necessity of developing a centralised digital asset performance management (APM) system.
The AssetWise Reliability solution was selected by OQ as their central asset data management platform, as it provided effective failure reporting and analysis, asset health indicators, and digital inspection strategies to enable corrective maintenance management. The digitalised APM system further facilitated reduction in asset failures and unplanned plant shutdown, and also minimised the environmental risks of flaring. According to statistics, the implementation of APM at one compressor site saved 14.8% in overall maintenance costs, and reduced functional failures by 50%, further achieving an increase in the annual operational reliability by 4.3%. OQ's digitalisation strategies further includes integrating APM as a part of their efforts in developing a digital twin.
Debabrata Chakraborty, regional director - MEA & Turkey at Bentley Systems, highlighted the significance of asset reliability in company operations. He said, "We developed the AssetWise Reliability as a broad solution for proactive inspection and maintenance programmes for new and existing assets in a digital twin environment. Strategy development utilises formal methods in order to achieve asset performance objectives within the asset's present operational context, further mitigating risks. It establishes a solid foundation for risk-based reliability thinking, so that both manual and AI-enabled operations can leverage it to drive decision making. It further assists in handling asset failures, by using risk-based inspections and a process-safety focus."