The importance of contextualised as opposed to raw data, data sharing and empowering the connected worker were amongst the key themes highlighted at the AVEVA PI World conference held in Amsterdam from 16-19 May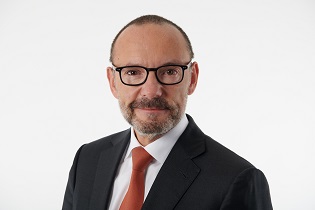 Peter Herweck, CEO AVEVA, spoke at the opening session of the AVEVA PI World conference. (Image source: AVEVA)
AVEVA, a global leader in industrial software, showed how information – contextualised industrial data – is fundamental to sustainable growth across the energy, manufacturing, and infrastructure sectors while unveiling its product roadmap to industry leaders and partners at the event.
"Information-led innovation provides a proven and responsive pathway to industrial growth at a critical time when the business landscape has been reshaped by turbulence and risk. Industry is facing very complex challenges. Business leaders face increased sustainability compliance requirements, retiring workforces, and the ever-present demand for efficiency, agility and resilience. Raw data in itself is not immediately useful or even understandable but when you analyze and contextualise it into insightful information, that's when you can help the industrial world to innovate at scale on the road to a net-zero future," said AVEVA CEO Peter Herweck.
"When you talk about all this data, it is key to have the best visualisation available; that means giving the right information at the right time to the right person in the most reasonable way to generate action."
"It's not only about technology, but also about changing business processes, and your facilities and clients' facilities, and helping people to utilise and get the best out of the technology," he added.
Amish Sabharwal, AVEVA executive vice president for Engineering, and Gregg Le Blanc, AVEVA senior vice-president, Information Management, outlined the company's integrated portfolio and elaborated on the product roadmap for 2022 and beyond.
Le Blanc highlighted the importance of data sharing and the connected industrial economy, through "being able to activate, transform that data into information and share it securely with others. Using the data in that way unlocks different capabilities that can drive new insights. Our software can help you have a transformational impact on how you use data, turn it into information and get those insights. And you can optimise your entire value chain around that.
"Approximately 68% of currently available enterprise data goes unused because it sits in organisational silos, yet more data is being created than ever before. AVEVA software enables data to be aggregated, transformed and shared within companies and with external partners, unlocking innovation at scale for all players within a new and connected industrial economy," Le Blanc said. AVEVA Data Hub, a SaaS solution that was launched earlier this year on AVEVA Connect, the industrial cloud platform, provides data sharing capabilities enabling businesses to unlock operational efficiencies, increase sustainability, and drive digital transformation.
Embedding sustainability with the digital twin
Sabharwal explained how the digital twin helps embed sustainability across industrial enterprises. "The digital twin recreates a physical asset in digital form by capturing, organising and contextualising data in a quantifiable form. When these models are used to forecast future scenarios, they can predict potential problems and improve asset reliability, reducing costs and resource use, and minimise carbon emissions. AVEVA's digital twin is uniquely able to capture engineering, operations and maintenance data to provide a holistic, integrated view across multiple use cases," Sabharwal said.
Giving some examples from the energy sector, he highlighted a producer of LNG energy carriers which is connecting engineering and operations data to be able to model the bahaviour of the asset around the world, while Shell has delivered 30 digital twins with plans to expand that number to 44. "They're up to 200 use cases on how they can improve reliability, safety and sustainability of their existing assets."
Sabharwal noted, "Saudi Aramco has the biggest digital twin offer in the world today. They've released 50 RFQs for their engineering companies and suppliers to deliver digital twins across their assets to help them make decisions in their operations."
AVEVA recently further strengthened its digital twin software with a host of new features that make visualising asset information with real-time data faster and easier than ever. With AVEVA Point Cloud Manager and AVEVA Asset Information Management, as well as new 3D wearable scanning and advanced document management, AVEVA customers can now experience a complete digital twin within just 60 days.
More than 1,500 delegates from around the world attended the four-day event in person, while an estimated 1,000 others interacted online. They were given an overview of new developments with industry-leading solutions including AVEVA Connect industrial cloud platform and AVEVA PI System operations information management. Learning labs offered hands-on technical practice in cloud and data environments.
Customer use cases
Throughout the event, customers and partners from more than 70 companies in 12 industry verticals shared their experience of the data-led digital transformation, and how it is helping them to tackle the complex challenges of the current industrial landscape.
In the energy sector, for example, the USA's Dominion Energy is leveraging data sharing to meet their ESG reporting requirements. By aggregating data from remote wind and other assets, and connecting their PI systems to AVEVA data hub, the company is able to share renewable energy data with their customers, showing them how their energy is being delivered, and demonstrating that the energy produced is from renewable sources.
TotalEnergies showed how it has put in place a robust data management system and data contextualisation platform allowing data sharing, deployment and maintenance, which has enabled the breaking down of business silos and the easy integration of new use cases. It has developed an efficient system of energy and emissions monitoring based on the same information, tracking the digital journey of the molecule, and allowing optimisation use cases to be built on top of monitoring use cases.
Eni discussed its data democratisation journey enabling digital transformation supporting its upstream operations. It has developed a dynamic digital oilfield platform based on the AVEVA Pi system deployed on a giant brown oilfield, using AVEVA software to create a live monitoring tool. This has created a flexible and collaborative environment to engage operators into a continuous and virtuous asset optimisation process, facilitating the shift from data to information, enabling next generation decision making and maximising know-how impact. It has produced major results in terms of emission events and flaring time, unplanned upsets, energy management, energy efficiency and GHG emission reporting.