Cannon Artes, a Cannon Group company, has been awarded a turnkey contract by the Suez Oil Processing Company (SOPC) to build a desalination and demineralisation plant in Egypt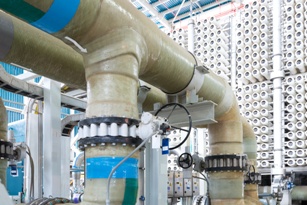 The plant is expected to come onstream by the end of 2024. (Image source: Adobe Stock)
Cannon Artes is a leading global engineering and construction company which provides tailored water and wastewater treatment plants for the Oil & Gas industry. The Suez Oil Processing Company (SOPC) has awarded Cannon Artes the contract as part of the modernisation of the company's Suez refinery. The contract is valued at an estimated US$31mn (€28,5mn) and the plant is expected to come onstream by the end of 2024.
Established in 1921, the SOPC refinery, located at the entrance of the Suez Canal and near the city of Suez, has a capacity of 3mn tonnes annually or 68,000 barrels of oil per day (BOPD). In a bid to boost sustainability through reduced environmental impact and energy efficiency, SOPC secured a €200m loan from the European Bank for Reconstruction and Development (EBRD).
The plant will be fed with water from the Red Sea and will be treated to provide high-purity demineralised water to feed high-pressure steam boilers as well as low-salinity make-up water for cooling towers. It will occupy an area of 7,140 sq m (76,900 sq ft) - the size of a football stadium - with an overall capacity of 30,000 m3/day (more than 1mn cu ft) and will rely on Cannon Artes' capabilities and experience in both desalination plants and customised solutions for refineries.
"Cannon Artes will be responsible for all stages of this huge assignment from detailed engineering design, construction and delivery of the entire water treatment infrastructure including pre-commissioning and commission, and start-up," said Pasquale Punzo, CEO of Cannon Artes. "The scope of this major project provides our team unique engineering challenges and calls upon our vast expertise, technology and know-how to realise this milestone facility for the Suez Oil Processing Company."
Cannon Artes is exhibiting at the Egypt Petroleum Show (EGYPS 2023), taking place at the Egypt International Exhibition Centre in Cairo from 13-15 February, at Stand 2J63.