Amarinth, designer and manufacturer of low lifecycle cost centrifugal pumps and associated equipment, has won an order from ADNOC for API 685 OH2 and VS4 magnetic drive pumps that will be used at ADNOC's Ruwais refinery in the UAE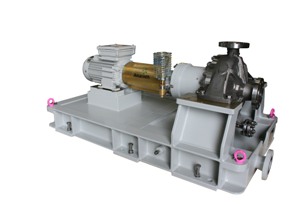 The Amarinth API 685 Magnetic Drive horizontal pump. (Image source: Amarinth)
The ADNOC Ruwais Refinery, located in Al Ruwais, 240 km west of Abu Dhabi city, is one of the largest refineries of petrochemicals in the world with a capacity of more than 800,000 bpd. The magnetic drive pumps were required on a demanding 28-week delivery with urgent site installation for an upgrade project to the ADIP tanks for the Ruwais natural gas liquid (NGL) trains 1 and 2.
Amarinth has successfully delivered hundreds of bespoke pumps on short lead times to ADNOC over the last 15 years. The new order calls for two API 685 2nd Edition OH2 horizontal and three VS4 vertical magnetic drive pumps, some of which will be operational whilst others remain as standby units.
Magnetic Drive pumps are often used where leakage of the pumped fluid poses a great risk, such as with aggressive or toxic liquids. In a magnetic drive pump, a hermetically sealed housing contains any process fluid in a closed system and the power transmission occurs contact-free through magnets from the drive shaft to the process wetted output shaft, negating the need for any seal support system. Amarinth will incorporate bespoke instrumentation on the API 685 OH1 and VS4 pumps, including temperature alarms and vibration monitors within the magnetic drive containment shell.
Oliver Brigginshaw, managing director of Amarinth, commented, "We are delighted with this latest order from ADNOC. Although we have supplied hundreds of API 610 pumps to ADNOC over the years, this is the first order from ADNOC for our API 685 magnetic drive pumps. We look forward to fulfilling this order and delivering against the tight lead times required of this contract."