ADNOC Drilling has recorded a 19% increase in year-on-year revenue to US$4716mn, with Offshore Jack-up and Oilfield Services (OFS) recording increases of 28% and 43% respectively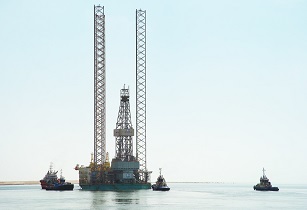 ADNOC Drilling has seen a growth in demand for offshore jackup services. (Image source: ADNOC)
EBITDA growth tracked the uptick in revenue, also increasing 19% to US$333mn. Net profit for the quarter stood at US$219mn, up 25% year-on-year, supported by increased activity coupled with improved operational efficiencies.
Abdulrahman Abdullah Al Seiari, chief executive officer, ADNOC Drilling, commented, "Our first quarter results are particularly pleasing as they clearly demonstrate the effective execution of our strategy, to grow earnings by expanding our fleet and our offering, for the benefit of our customers and our shareholders.
"To maximise value for shareholders now and into the future, we will continue to secure high-quality, long-term contracts that offer superb future earnings visibility, as well as protection against market volatility. At the same time, we will maintain our focus on operational excellence and sustainable operations, as well as capitalise on our unique position within the market as we remain firmly on track to deliver our 2023 guidance."
In the first quarter of 2023, ADNOC Drilling announced the signing of an agreement to purchase 10 newbuild hybrid power land drilling units in direct response to ADNOC's accelerated production capacity targets and sustainability plans. The new hybrid rigs utilise high capacity batteries to improve power delivery while reducing greenhouse gas emissions by up to 15%. During the quarter, the company also announced the signing of a Memorandum of Understanding with Masdar to explore geothermal energy opportunities.
Meanwhile, ADNOC Gas plc reported that Q1 2023 revenue stood at a robust US$5.2bn, compared to pro forma adjusted revenue of US$6.2bn for Q1 2022, impacted by the pricing environment. The company noted that during the reporting period, Brent crude oil prices declined nearly 24% in comparison to Q1 2022. Despite this, ADNOC Gas maintained a robust EBITDA margin of 34% in Q1 2023, only 1% lower than in Q1 2022. Net Income for Q1 2023 was US$1.3bn versus pro forma adjusted net income of US$1.2bn in Q1 2022.
ADNOC Gas continues to capitalise on growing global demand for natural gas and remains focused on increasing production capacity and driving operational efficiencies. As the company continues to grow its export business, the first-ever LNG cargo to be shipped to Germany from the Middle East was delivered in February from Abu Dhabi to the Elbehafen floating LNG terminal in Brunsbüttel. ADNOC Gas announced in early May the signing of a three-year agreement with TotalEnergies for the export of LNG from 2023 to 2025.
Ahmed Alebri, chief executive officer of ADNOC Gas, commented, "ADNOC Gas has delivered robust financial results during Q1 2023, despite a significant contraction in market prices from the near-all-time highs experienced during 2022. Our performance during this period demonstrates our resilience and ability to generate attractive returns. We maintained a solid operating margin thanks to our ongoing focus on operational excellence and cost optimisation and reported healthy net income of US$1.3bn.
"Importantly, we continue to execute on the growth strategy communicated during our IPO, underpinned by anticipated upstream capacity expansion and product mix optimisation. We see long-term structural demand growth for natural gas as a critical fuel in the responsible global energy transition, and we are ideally positioned to meet both local and international demand, while further decarbonising our operations in line with the UAE's Net-Zero 2050 ambition."
Key projects include further maximising ethane recovery and monetisation across operations, extending the gas pipeline network by more than 500 km to better connect the Northern Emirates of the UAE, and the construction of an additional greenfield gas processing facility, co-located with a significant ADNOC upstream reservoir. The new facility is expected to add approximately 1.9bn Standard Cubic Feet Per Day (bscfd) processing capacity to ADNOC Gas' processing operations by 2028, at the earliest.