The Middle East's industrial heavyweights are lining up to support the MENA HSE Forum, taking place from 6-7 September at the Grosvenor House, Dubai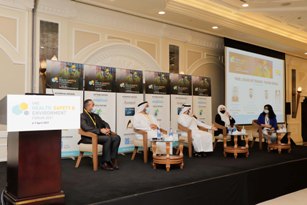 The MENA HSE Forum will bring together key stakeholders from across the MENA region. (Image source: Alain Charles Publishing)
The MENA HSE Forum is gaining momentum, as leaders from key industries have joined the leading HSE event to share critical insights on new best practices as well as access the latest innovations to advance HSE in the Middle East. More than 200 stakeholders from the HSE community in UAE, Saudi Arabia, Qatar, Oman and Bahrain are expected to attend.
This edition features five key sessions including:
1. Process Safety Frameworks – Aramco, Cheiron, Abu Dhabi Waste Management Center (Tadweer) and Kuwait Energy Egypt will demonstrate how to deliver an effective process safety management strategy to increase efficiencies while reducing lost time incidents
2. Role of HSE Leadership in Crisis Management – ADNOC, Drydocks World and Zawawi Powertech Engineering will address the challenges faced by companies during any emergency and identify strategies to maintain consistent HSE standards
3. Future of Digitalisation in HSE – Petrofac and Fujairah Natural Resources Corporation will analyse the impact of disruptive technologies which can help your organisation create a holistic culture of risk identification
4. Learning about Occupational Health & Behavioural Safety from Global Transforming Events – Asyad Drydock, Be'ah, John Energy and Oman Electricity Transmission Company will examine the effect of the pandemic on OHSE to best position your organisation to address these in 2023 and beyond
5. How ESG moved from a Cost Centre to a Value Driver – Other key players will share insights on the relationship between ESG and investment returns to help you drive your investment decisions and integrate environmental sustainability in your business.
Speakers include Tahir Azhibek, corporate HSE manager, ADNOC; Dr Naseem Mohammed Rafee, director of health and safety department, Dubai Municipality; Eng Raed Mohammed Al-Marzooqi, manager of studies and system section, health and safety department, Dubai Municipality; Dr Eng Hani Hossni, EHS director Abu Dhabi Waste Management Center (Tadweer); Gerardo Daniel Abalde, group head, Saudi Aramco; Lynn Hobballah, head of health & safety, Petrofac; Saleh Al Balushi, head of HSE, Drydocks World; and Peter Michael Hamel, department head OHSE, Be'ah.
The growing list of sponsors includes Vin Technology Systems, MILWAUKEE, Benchmark ESG, BSI, Clyde & Co, Fugro, GTSC, iOmniscient, ITT-Innovations, MACS-G, ARASCA Medical Equipment Trading and Al Hoty-Stanger.
Vinay T, head of Business Development at Alain Charles Events, commented, "Our research with stakeholders from the oil and gas, construction and tourism sectors revealed that end users are seeking disruptive technologies that will continue to cut LTI and optimise productivity. "We identified a need to access the latest safety solutions for the workforce across the board which led us to create this exclusive platform for HSE companies to display and demonstrate their services and solutions to key players in the region. This is also a premier opportunity to build new relationships and network in person with the MENA HSE community."
Please register for the HSE Forum at https://www.hse-forum.com/mena/register