Safe and efficient transfer of personnel and cargo is crucial to any offshore operation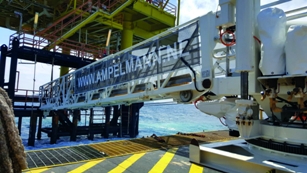 Ampelmann's systems for Walk to Work (W2W) operations have been gaining in popularity. (Image source: Ampelmann)
Ampelmann, the Dutch offshore access provider, has been active in the Middle East for close to a decade now, and over this time, the use of its systems for Walk to Work (W2W) operations have been gaining popularity.
Last year, the company reached the milestone of one million safe transfers in the region. The number of personnel that transfer comfortably to and from offshore assets with an Ampelmann system continues to grow, and is expected to continue doing so in the coming years.
The company has long been the preferred choice for both national and international oil companies (NOCs and IOCs) globally and in the Middle East. With an office in Qatar, a new location in Dubai and a growing team, the company is readily available for any client in the region. Next to its existing fleet in the Middle East, Ampelmann recently mobilised two extra L-type systems to meet the increase in demand.
Proven systems
The A-type is the company's flagship system and has a stellar track record. It has been supporting key players in the local market, including several vessel owners and operators in Qatar, Azerbaijan, Saudi Arabia, Oman and the UAE. The A-type, with a gangway of 25 meters, enables safe and efficient transfer of personnel in sea states up to 3m Hs. With its specifications and reliability, the A-type is a trusted choice for a variety of offshore operations.
The smaller, fully electric L-type system similarly has a strong track record. This system is particularly well suited to daily crew change operations or supporting EPC scopes, such as installation and hook-up and commissioning. It allows for a continuous flow of personnel in sea states up to 2m Hs, transferring up to 50 people in five minutes.
Alongside the A- and L-type, the company's fleet consists of over nine different system types for offshore access. The diversity in systems facilitate many different scopes allowing the company to provide its clients with the most fitting solution.
All-round service
Next to safe and efficient offshore access, the company also provides access to reliable and accurate data on various offshore projects, using Ampelmann Insights. Ampelmann Insights is a data-driven platform which provides a clear overview of relevant data to help make informed decisions, review performance and optimise offshore operations.
Reports from Ampelmann Insights can clearly present the value and impact of safe and efficient transfer systems on offshore operations. The tool is available to all Ampelmann clients and in use by several customers in the Middle East. Utilising the tool, they get even more value from the efficient offshore access the company enables.