Gastech, the leading exhibition and conference supporting the gas, LNG, hydrogen, and energy industry took place in Dubai from 21-23 September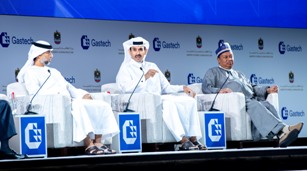 The opening ministerial session of Gastech 2021. (Image source: dmg Events)
The event, which was opened by H.H. Sheikh Hamdan bin Mohammed bin Rashid Al Maktoum, Crown Prince of Dubai and chairman of The Executive Council of Dubai, was attended by more than 15,000 attendees including senior decision-makers and energy industry thought leaders, and 250 exhibiting companies.
The Gastech Strategic Conference brought together more than 300 government ministers, energy industry leaders, policymakers, and key customers to map out a future low-emission landscape. Key topics discussed included decarbonisation and emissions management; financing and project investment; adapting business models in a post-Covid world; integrated energy suppliers; gas and LNG supply and demand dynamics; the potential for hydrogen to play a key role during the energy transition; diversification of the future workforce; trading, contracting and pricing.
Delivering the opening address, His Excellency Dr Sultan Ahmed Al Jaber, UAE Minister of Industry and Advanced Technology and managing director and chief executive officer of the Abu Dhabi National Oil Company (ADNOC) highlighted the United Arab Emirates' (UAE) leadership in natural gas and said natural gas will support the nation's vision for economic growth.
"Gas will play a pivotal role in this blueprint for growth, as the essential fuel stock for our downstream hub in Ruwais and our industrial joint venture,TA'ZIZ," H.E. Dr. Al Jaber said.
The UAE is on track to achieve gas self-sufficiency as ADNOC leverages advanced technologies to expand into unconventional gas, tap into gas caps and unlock new reservoirs, as part of the company's integrated gas strategy launched in 2018. "At the heart of this goal, is the expansion of our producing assets, like Shah and the development of new ones, like the unique Umm Shaif gas cap and the Hail, Ghasha and Dalma project," H.E. Dr. Al Jaber said, as he provided an update on ADNOC's progress.
"Construction of artificial islands is underway and we are leveraging our experience in world-class developments to ensure costs are minimised and commercial benefits maximised for all our partners. Together, these projects will deliver over three billion standard cubic feet of gas per day, enough to power several million homes.
"As the world consolidates its recovery from the Covid-19 pandemic, LNG and broader gas markets globally are tightening, with demand outpacing supply. Longer-term, the outlook is also robust, driven particularly by markets in Asia. Today, gas provides almost one-quarter of the world's energy supply and will continue to play a critical role in the global energy system. No other fuel source can reliably supply the baseload power to heat and cool homes, drive heavy industry and expand economies, all while keeping emissions at a minimum."
His Excellency said that as innovations are helping to make gas even cleaner and more sustainable, the UAE is applying technology to create zero-carbon fuels from gas such as hydrogen. "Already at ADNOC, we produce about 300,000 tons of hydrogen a year. By leveraging our existing gas infrastructure and commercial-scale CCUS capabilities, the UAE can and will become a major player in the emerging blue hydrogen market."
Gastech 2021's official opening ceremony also featured a Ministerial Panel in which Ministers from the world's leading energy economies shared insights on the role of natural gas in the energy transition, future directions on how to create a hydrogen economy and what roadmaps are needed to meet the growing demand for energy and cleaner fuels.
Participating in the panel session were H.E. Suhail Mohamed Al Mazrouei, UAE minister of energy and infrastructure; H.E. Eng Saad Sherida Al-Kaabi, Qatar's minister of state for energy affairs and president and CEO of Qatar Petroleum; H.E. Dr Alparslan Bayraktar, Turkey's deputy minister of energy and natural resources, H.E. Arifin Tasrif, minister of energy and mineral resources, Indonesia and H.E. Mohammad Barkindo Sanusi, secretary-general, OPEC.