Strohm, the world's first and leading producer of Thermoplastic Composite Pipe (TCP), has completed the largest funding round in the company's 15-year history, securing a €15mn (approx. US$15.9) investment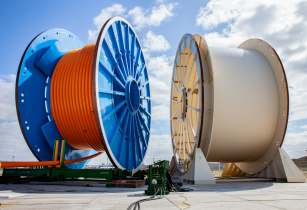 Strohm's TCP is agnostic to all fluids and gases, making it ideal for offshore green hydrogen transport. (Image source: Strohm)
The investment includes a €10mn (approx. US$10.6mn) commitment by ING Corporate Investments, the Netherlands' largest financial institution, as well as a further €5million (approx. US$5.3mn) co-investment from existing shareholders Shell Ventures, Chevron Technology Ventures, Evonik Venture Capital and HydrogenOne Capital Growth Plc (HydrogenOne).
In August 2022, an initial €14million was raised with HydrogenOne investing €10million, with the remainder from Strohm's other main shareholders. Within the total round, HydrogenOne invested a total of €11.25million (approx. US$11.93mn).
This funding round enabled Strohm to accelerate the expansion of its manufacturing operations, enhancing capacity to deliver its unique TCP solutions to offshore green hydrogen and carbon capture and utilisation and storage (CCUS) markets, while continuing to support its current clients towards their net-zero goals.
TCP is a flexible, corrosion-resistant pipe technology which does not fatigue or suffer from issues associated with using steel pipe for hydrogen, such as embrittlement.
Strohm CEO, Martin van Onna, said, "This significant investment from ING Corporate Investments and our existing shareholders is a huge vote of confidence in what we have achieved to date and the wide acceptance of our ground-breaking TCP technology and its applications across multiple energy markets.
Corstiaan Withagen, managing director of ING Corporate Investments, remarked, "Strohm is clearly the undisputable market leader in TCP, a market with huge potential specifically in the renewable energy market. With the company's breakthrough technology, superior product and proven track record, Strohm has created a sustainable and durable competitive advantage paving the way for an accelerated growth path. We are excited to be part of Strohm's journey and are looking forward to work closely with Strohm's management team and shareholders."