QatarEnergy has entered into agreements with the Government of Lebanon, TotalEnergies and Eni to become a partner in two exploration blocks offshore the Republic of Lebanon, marking its first exploration venture in Lebanon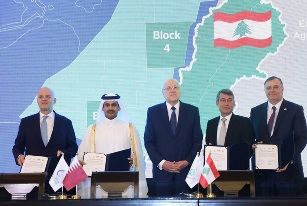 The signing of the agreement. (Image source: QatarEnergy)
QatarEnergy will hold a 30% working interest in the Exploration and Production Agreements for Blocks 4 and 9, where TotalEnergies (the operator) and Eni will each hold a 35% interest.
Block 9 has a total area of 1,749 sq km and lies around 80 km off the coast of southern Lebanon in water depths of approximately 1,700 m, while Block 4 has a total area of 1,911 sq km and is located in water depths of around 1,500 m.
His Excellency Mr. Saad Sherida Al-Kaabi, Minister of State for Energy Affairs, president and CEO of QatarEnergy, said, "This very important commitment gives us the opportunity to support Lebanon's economic development, at this critical juncture.I want to take this opportunity to express my sincere thanks to the Government of Lebanon represented by His Excellency Dr. Walid Fayad, the Minister of Energy and Water and the teams at the ministry and the Lebanese Petroleum Administration for the valuable support and cooperation that led to this milestone."
"We are pleased to work with TotalEnergies and Eni, with whom we share a long history of cooperation, and who have a deep understanding of the region and a proven exploration track record. We look forward to beginning work on this promising endeavour, and hope that these efforts are successful for the benefit of Lebanon and its people," Minister Al-Kaabi concluded.
"We are very pleased to welcome QatarEnergy in our exploration acreage in Lebanon. The recent delineation of Lebanon's maritime border with Israel has created a new momentum for the exploration of its hydrocarbon potential. Along with our partners, we are committed to drilling as soon as possible in 2023 an exploration well in Block 9, and our teams are mobilised to conduct these operations", said Patrick Pouyanné, chairman and CEO of TotalEnergies.