Global artificial intelligence (AI) seismic interpretation experts Geoteric have launched Geoteric 2023.1, which will enable operators to de-risk well placement, reduce their environmental impact and increase profitability by better predicting future production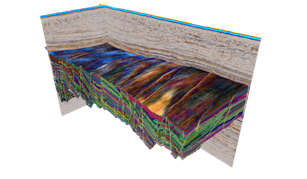 The technology identifies every event from surface to region of interest in hours. (Image credit: Geoteric)
Building on Geoteric's cutting-edge AI Fault interpretation that accurately detects faults invisible to the human eye, the new release now includes structurally-aware AI Horizons. The technology identifies every event from surface to region of interest in hours, and comes at a crucial time for operators facing demands to fast-track production.
The software will enable 100% interpretation of the data in a seismic volume, even in complex geology, in a very short time frame, enabling assets to be brought online safer and faster.
"Customers will be able to complete projects faster than ever before with no compromise on accuracy or quality," said Nicola Blanshard, CEO, Geoteric. "Whether they need to understand compartmentalisation of their reservoir for better production prediction, de-risk future well placement or be able to quickly identify suitable and safe locations for carbon capture and storage (CCS) sites."