Aramco has posted a record net income of US$161.1bn in its full year 2022 results, up 46.5% on the 2021 figure and representing the largest annual profit ever recorded by an oil and gas company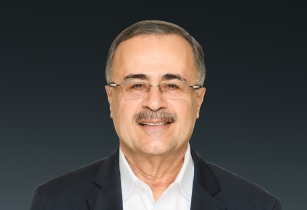 Amin H. Nasser, president and CEO, Aramco. (Image source: Aramco)
The results, Aramco's highest annual profits as a listed company, were underpinned by stronger crude oil prices, with prices spiking following Russia's invasion of Ukraine in February 2022, higher volumes sold and improved margins for refined products, while the company continues to strengthen its oil and gas production capacity, as well as its downstream portfolio, to meet anticipated future demand.
Capital expenditure in 2022 also rose sharply to US$37.6bn, an increase of 18% from 2021. Aramco expects 2023 capital expenditure to be approximately US$45bn to US$55bn including external investments, with capex increasing until around the middle of the decade.
Aramco declared a dividend of US$19.5bn for the fourth quarter, to be paid in Q1 2023.
Aramco president & CEO Amin H. Nasser, said, "Aramco delivered record financial performance in 2022, as oil prices strengthened due to increased demand around the world. We also continued to focus on our long-term strategy, building both capacity and capability across the value chain with the aim of addressing energy security and sustainability.
"Given that we anticipate oil and gas will remain essential for the foreseeable future, the risks of underinvestment in our industry are real – including contributing to higher energy prices. To leverage our unique advantages at scale and be part of the global solution, Aramco has embarked on the largest capital spending programme in its history, and last year our capex rose by 18.0% to reach $37.6bn.
"Our focus is not only on expanding oil, gas and chemicals production, but also investing in new lower-carbon technologies with potential to achieve additional emission reductions – in our own operations and for end users of our products."
In 2022, Aramco's average hydrocarbon production was 13.6mn barrels of oil equivalent per day (mmboed), including 11.5mn barrels per day (mmbpd) of total liquids. The company is proceeding with implementing the Government's mandate to increase its crude oil maximum production capacity to 13 mn bpd by 2027.
The Aramco profits dwarf other recently-declared profits of majors such as Exxon's US$56bn, Shell's $39.9bn, Chevron's US$36.5bn and BP's US$27.7bn, and have attracted strong criticism from some quarters given climate change concerns.