TMK, one of the world's leading producers of tubular products for the oil and gas industry, will take part in the Egypt Petroleum Show 2022 (EGYPS 2022) from 14-16 February in Cairo, Egypt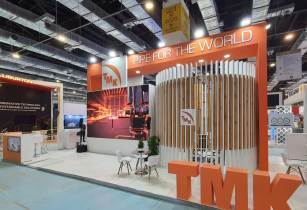 TMK's display will be featured in Pavilion 2, Booth 2C40. (Image source: TMK)
TMK will present a wide range of services and high-tech products for energy companies at the forum, which is the key event for the oil and gas industry in North Africa and the Mediterranean.
The company will showcase its high-tech steel OCTG pipes, including pipes with premium threaded connections for hydrocarbon production in challenging conditions and in deepwater offshore fields, as well as unique solutions for the hydrogen energy industry.
The entire range of products and services will be displayed digitally via screens and interactive panels. The company's booth will also feature a photowall showing the main stages of manufacturing its innovative tubular solutions.
In 2022, the Egypt Petroleum Show will be held for the fifth time. The event is expected to draw around 26,000 visitors.
On the sidelines of the exhibition, TMK's delegation will hold talks with key players operating in the region. In addition to discussing ongoing projects and promoting new high-tech products and services, the meetings will cover promising areas of cooperation, expanding plant specialization and product ranges, as well as current trends in the industry, including decarbonisation and hydrogen transition.
Denis Mukhlynin, head of TMK's Middle East department, said, "We continue to strengthen our partnerships and expand our presence on the continent supported by enhanced R&D and production capacities. Currently, TMK offers the widest range of unique products and services for the hydrocarbon and hydrogen energy industries, as well as comprehensive solutions for turnkey projects. During the forum, we look forward to demonstrating our capabilities and discussing further plans and prospects for expanding cooperation with our partners."
TMK's display will be featured in Pavilion 2, Booth 2C40.