The inaugural Middle East Oil, Gas & Geosciences Show (MEOS GEO 2023), which took place in February at Exhibition World Bahrain, heralded a new industry era, with more than 17,000 professionals registered for the event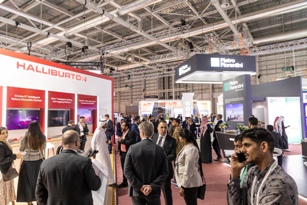 The busy exhibition floor at MEOS GEO 2023. (Image source: informa markets)
With an exhibitor profile of 180 companies, over 800 technical presentations, and more than 300 hours of specialised content, MEOS GEO 2023 has become Bahrain's largest-ever oil and gas event, resulting from the merger of the Middle East Oil & Gas Show and Middle East Geosciences Conference & Exhibition.
The event, which will now run every two years, is held under the patronage of the Crown Prince and Prime Minister of the Kingdom of Bahrain His Royal Highness Prince Salman bin Hamad Al Khalifa, and is officially supported by Bahrain's Ministry of Oil & Environment and the Kingdom's energy investment arm, Nogaholding.
The exhibition of upstream oil & gas products and services was inaugurated by Bahrain's Deputy Prime Minister, His Excellency Shaikh Khalid bin Abdulla Al Khalifa. Spanning 18,000 sq m at the new, state-of-the-art venue in Sakhir, the show attracted exhibitors from more than 20 countries, including sector heavyweights Saudi Aramco, Kuwait Oil Company, Tatweer Petroleum, Baker Hughes, Chevron, Halliburton, SLB and Weatherford.
Opening the conference, Saudi Aramco's vice president & chief drilling engineer and MEOS GEO 2023 Committee chair Faisal N. Al Nughaimish said the merger of MEOS and GEO signified a new era for the region's oil, gas, and geosciences sectors.
"We live in times of rapid and remarkable change. And that calls for a novel approach and fresh kind of thinking. The merger of MEOS and GEO unites different disciplines, and brings together our industry's entire value chain under a single roof. With the theme of 'Today's Realities, Tomorrow's Energy,' MEOS GEO 2023, fittingly, also recognises the current fast-paced, rapidly evolving industry landscape," he said.
Al Nughaimish added that the exhibition and conference reinforced this by showcasing disruptive innovations, groundbreaking technologies and pioneering methodologies that allow the unlocking of previously unthinkable efficiency gains.
This year's conference, in its new format, also acknowledged the demand for a more sustainable energy future, with a series of high-level panel sessions on intersectional topics that addressed today's emerging challenges, unfolding opportunities, and issues of global concern including carbon emissions, investments, supply chain, geopolitics, integration, 4IR and talent 4.0.
The conference got off to a VVIP start on 19 February with addresses by Bahrain's Oil & Environment Minister and Special Envoy for Climate Affairs His Excellency Dr. Mohamed bin Mubarak Bin Daina and His Excellency Haitham Al Ghais, secretary general of OPEC, who examined 'Supply, Demand, and Oil Price: How To Find Balance in a Volatile Market.'
In a rousing speech Al Ghais was unapologetic about the role of oil & gas in global growth, and urged companies to show the world that the industry can transition along with the rest of the world, while at the same time decarbonising and reducing emissions.
"We have an industry we should be proud of. For decades, this industry has been the source of economic development globally, and industrialisation. Just look around you in this room; everything we have today is derivatives of oil and petrochemicals," he said.
"We are not climate change deniers, but we believe that the transition has to be equitable," he stated.
Al Ghais noted the global oil sector requires US$12.1 trillion investment by 2045. "This is critical because we see global energy demand rising by almost 25% from now to 2045," he said.
Meanwhile, Saudi Aramco and a Japanese consortium of INPEX/JODCO, Nissan Chemical Corporation and OILMIND were the winners of the MEOS GEO 2023 Energy Awards, which focused on industrial applications, technology and project implementation to bridge the gap between concept and practice.
The Japanese consortium took the 'Innovation and Technology' honours for its new generation chemical water shut-off technology, while Saudi Aramco's Northern Area Production Engineering Department took the accolade for 'Transformation and Organisation Performance' for its POSH 4.0: Gate to Digital Transformation project, and Saudi Aramco Project Management were the winners of the 'Sustainability' award for the SPARK Dry Port Projects.
"These winning applications and technology recognise the advancements being made in the oil and gas sector, and the innovation which is now permeating the entire sector," commented Mohammed Ebrahim, Director of show organiser Informa Markets.
"As collaboration continues to be key to integrating a wide range of solutions to meet energy demand, MEOS GEO provides a unique opportunity to learn, share, and exchange ideas and solutions," he added.
Over the three days, the conference organised by the Society of Petroleum Engineers (SPE) and the American Association of Petroleum Geologists (AAPG), also included a CEO plenary session featuring big industry names, a Young Professionals & Students programme of events aimed at nurturing the next generation of oil and gas professionals, and a Start-Up Village which provided a global stage for emerging energy technology companies.
On the exhibition floor visitors were treated to a rare display of core sample material from Arabia's source rock sequences and some of the world's most fascinating oil and gas play areas, an oil vehicle showcase dedicated to off-road vehicles, trucks and specialised equipment, and a free-to-attend programme of Live Labs and Genius Talks centred on digitalisation, drones, cloud solutions, AI, IoT, cyber security and 3D.