Young ADIPEC, the annual youth outreach initiative at the Abu Dhabi International Petroleum Exhibition and Conference (ADIPEC), has announced it is partnering with the Abu Dhabi Education Council (ADEC) as part of government efforts to prepare today's youth for new energy landscape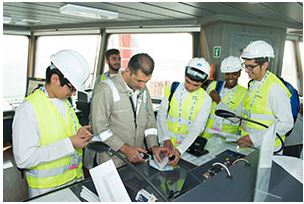 450 students from 18 schools across Abu Dhabi city, Al Ain, and the western region are expected to participate in the programme. (Image Source: ADIPEC)
The initiative aims to educate high school students between the ages of 14 and 17 about the wealth and diversity of career opportunities in the energy sector, encouraging them to pursue studies in the fields of science and engineering, and spreading awareness about these specialties. The Young ADIPEC programme is conducted under the patronage of Sheikh Nahyan Bin Mubarak Al Nahyan, UAE Minister of Culture and Knowledge Development.
The collaboration with ADEC will enable Young ADIPEC to reach the wider school community and spread awareness about the role of youth in the future of the UAE's energy sector. ADEC will support the initiative by raising awareness about it through the Council's official communication channels.
ADEC's school operations executive director Mohammed Salem Al Dhaheri said, "Encouraging youth to innovate and create is crucial for industry development, which is exactly why this initiative is timely. Our aim is to engage students in as many activities as possible that will motivate them to learn and explore, all in favour of preparing a curious, well-read and equipped workforce that will help further fructify the economy."
In the first phase of Young ADIPEC, students will have an exciting opportunity to get hands-on experience during trips to oil field sites, training centres, innovation centres, as well as workshop and manufacturing facilities belonging to leading oil and gas companies. The second phase of the Young ADIPEC programme will be an experiential and edutainment component that will enable students to explore different aspects of the industry.