Leading international technical service provider showcased computational engineering and well-integrity concept services at ADIPEC 2016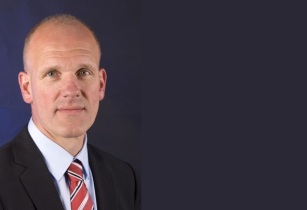 Fred Gabriels Managing Director of TUV Rheinland Sonovation. (Image source: Orient Planet)
Whether power plants, industrial plants, pipelines, or offshore wells, all these industries depend on technical systems and individual components, and particularly components that are exposed to major stresses such as high pressure, extreme temperatures, rapid load cycles, and corrosion. For operators of these systems and plants, it is important to predict how long the various components can resist such stresses without endangering people or the environment.
The current decline in price and profit in the Middle East requires companies to rationalise their resources and expenses. Intelligent planning can help to cut costs, after all, unscheduled production downtime and collapsing incidents caused by corrosion can be very expensive. And this is where TÜV Rheinland's recent developments of highly professional technical skills come in.
TÜV Rheinland Materials Testing Division based in Germany offers computational engineering services to prevent industrial incidents by using a range of self-developed software tools modelling the behavior of critical components. Dr. Albert Bagaviev, head of computational engineering and his colleagues are experts in this field and can determine the service life of different components, particularly those that are showing signs of wear or aging. Various interactions can be calculated and any damage simulated.
In addition, Dr. Bagaviev's team helps customers to develop new plants with improved efficiency or optimise existing ones. "We work at the interface between the current state of technology and current scientific knowledge," said Dr. Bagaviev, noting it as one of the special features of the service.
Parallel to technological inventions at TÜV Rheinland's Headquarters, Middle East clients benefit from the well-integrity concept developed in close partnership with one of the oil majors in Europe to determine the integrity of offshore wells. This approach consists of a number of activities; wellhead "gap" measurements, camera inspection, D-PEC wall thickness measurement, fluid water samples and well-integrity calculations including modern CAD/FEM tools, corrosion and chemistry analysis and global well-safety analysis.
TÜV Rheinland provides the offshore industry with advanced knowledge of well-integrity, which enables better planning of production and well-abandoning activities, saving production and avoidance of unnecessary, costly remediation on non-corroded wells.
"The reliable prediction of damage, recommendations for safe operation and reduction of health, safety and environmental risks belong to our mission to drive the success of our clients," explained Fred Gabriels, Managing Director of TÜV Rheinland Sonovation.
With the focus always on the bigger picture, various technical issues can be investigated at an interdisciplinary level under one roof resulting in an advanced knowledge of the integrity of the given asset. With examinations of materials and components, measurements of component stresses during production or operation, and the modeling of signs of wear and aging by the TÜV Rheinland experts, operators receive a comprehensive safety concept.