Ingersoll Rand showcased its safety and durability focused material handling and fluid management solutions for oil and gas operations at the Abu Dhabi International Petroleum Exhibition and Conference (ADIPEC), the world's leading oil and gas exhibition and conference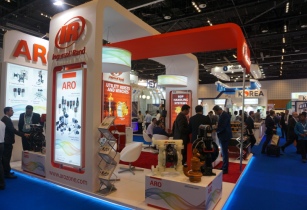 The Ingersoll Rand showcase at ADIPEC 2016 (Image source:Ingersoll Rand)
"The oil and gas industry is a key market for Ingersoll Rand and ARO® and despite the downturn in the market our commitment to the industry has been reinforced to align with the needs of our customers," said Ross Atherton, vice president, global sales, product management and aftermarket at Ingersoll Rand Material Handling.
"Our Material Handling business has invested in growing our parts, testing and servicing capabilities and by the end of this year will have full service coverage through our Authorized Service Distributor (ASD) network with trained technicians and testing facilities to serve our onshore and offshore oil and gas customers in Saudi Arabia, Kuwait, Bahrain and the UAE.
"The material handling solutions offered by Ingersoll Rand include hoists, winches and BOP handling systems powered by air, hydraulic or electric that cover a full range of lifting and material handling capacities from one quarter tonne all the way to 200 tonne capacity. These products are known for extreme durability and are designed to survive in the harsh offshore and onshore oilfield environments.
ARO, the fluid management brand of Ingersoll Rand offers pump and pump control technologies including high quality Air Operated Diaphragm Pumps, Hydraulic & Pneumatic Piston Pumps, and all types of Air Control Accessories & Actuation systems.
More details on Ingersoll Rand Material Handling and Fluid Management Solutions and their products can be found here.