19th Edition of World's Most Influential Oil and Gas Event Puts Global Spotlight on the New Energy Landscape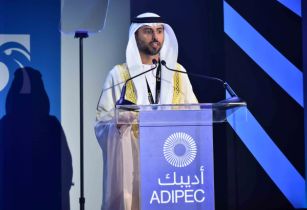 H.E. Suhail Mohammad Faraj Faris Al Mazrouei UAE Minister of Energy opening speech at ADIPEC 2016. (Image source: DMG Events)
His Highness Sheikh Hamed bin Zayed Al Nahyan, Chief of the Abu Dhabi Crown Prince's Court, formally inaugurated the largest ever Abu Dhabi International Petroleum Exhibition and Conference (ADIPEC), marking the start of four days of high-level industry discussions that will shape policies and strategies for the new energy landscape.
Held under the patronage of His Highness Sheikh Khalifa Bin Zayed Al Nahyan, President of the United Arab Emirates, ADIPEC 2016 is hosted by the Abu Dhabi National Oil Company (ADNOC), supported by the UAE Ministry of Energy, the Abu Dhabi Chamber, and the Abu Dhabi Tourism Authority (TCA Abu Dhabi), and organised by dmg events.
The official opening ceremony featured keynote speeches from H.E. Dr. Sultan Ahmed Al Jaber, UAE Minister of State and ADNOC Group CEO, H.E. Suhail Mohammad Faraj Faris Al Mazrouei, UAE Minister of Energy, H.E. Mohammed Barkindo, OPEC secretary general, followed by industry insights from Rex W. Tillerson, chairman and CEO of Exxon Mobil Corporation.
Speaking on stage, H.E. Suhail Mohammad Faraj Faris Al Mazrouei, UAE Minister of Energy, said: "Continuous industry developments, combined with a rapidly evolving global economy, are creating an increasingly competitive world energy market. This makes it essential that we leverage research, technology, and innovation to optimise both the exploration and production costs of every barrel that we produce.
"By doing so, our industry will thrive and remain competitive in this new energy world. I am confident that with our collaborative efforts, and by working both harder and smarter, we can help create a sustainable energy future for generations to come."
ADIPEC 2016 marks its 19th edition with its largest event to date, bringing together more than 2,000 exhibiting companies, 25 country pavilions, 850 speakers, 8,500 delegates, and 100,000 attendees from more than 125 countries.
The first of two Global Ministerial Dialogues brought together international ministers and decision makers who offered insights on driving sustainability and shaping future energy scenarios amid an evolving global supply mix.
The first day of ADIPEC 2016 concluded with the announcement of this year's winners of the ADIPEC Awards during a Gala Dinner hosted by ADNOC at The Ritz-Carlton Abu Dhabi. The distinguished awards recognise individuals, companies, and projects that demonstrate excellence, best practice, and innovation in energy from around the globe.