Kerui Petroleum, a provider of oilfield engineering services, turnkey contracting services and petroleum equipment, is using a strategy of diversification to remain competitive, according to Andy Leng, the company's vice president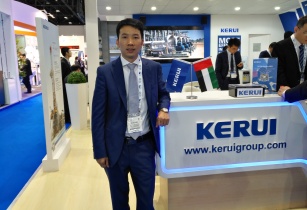 Andy Leng is positive about the future in the Middle East and Africa. (Image Source: Kerui Petroleum)
Speaking from the ADIPEC conference in Abu Dhabi this week, Mr Leng said the financial climate has created "opportunities to change strategies", including taking a localised approach in the countries where they operate.
"We are serving local companies and creating local jobs, of course," he told Oil Review Middle East.
In the Middle East region, the head office is in the UAE and four years ago, a joint venture was established to form an Omani subsidiary of Kerui. In January 2016, Kerui was awarded a certificate to acknowledge the company's role in Oman's development by the Oman Society for Petroleum Services. Kerui also operates in Saudi Arabia with a base in Dammam and Turkey with a base in Izmir.
Kerui also employs 200 people in the southern part of Iraq, providing service teams to three oilfields. Operations were suspended in northern Iraq in 2009 but Mr Leng said: "I hope it will come back."
Mr Leng described the African market as important to Kerui and praised the Chinese government for facilitating their work in the continent with financial support. Egypt, Algeria, Libya, Gabon and Nigeria are all significant markets for the company.