Making strategic long-term investments and pooling knowledge and resources from within the oil and gas industry is central to energy sector progress, said senior officials and world representatives at a recent gathering of the Middle East Petroleum Club (MEPC) in Abu Dhabi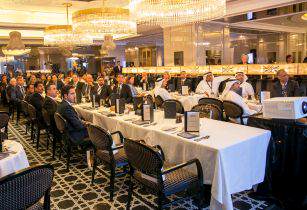 Al Multaqa invites representatives from both existing and prospective ADIPEC participating countries to gain insight about the knowledge-exchange and business opportunities available at what is now considered a flagship event for the global energy sector. (Image source: ADIPEC)
Guests at the MEPC 'Al Multaqa' event were given an exclusive preview of the key issues that will be addressed at this year's Abu Dhabi International Petroleum Exhibition and Conference (ADIPEC).
Through its participation at Al Multaqa, the International Petroleum Investment Company (IPIC), exclusive sponsor of the MEPC, shed light on key achievements of the IPIC Group portfolio companies.
Commenting on IPIC's participation at ADIPEC, Suhail Mohamed Al Mazrouei, managing director of IPIC and UAE minister of energy, said, "Over three decades, IPIC has invested in major energy and petrochemical assets across the world. Through its strategic local and international partnerships with leading entities such as Abu Dhabi National Oil Company (ADNOC), IPIC has successfully positioned Abu Dhabi as the world's fifth largest producer in petrochemicals. As a key investor across the energy value chain, IPIC is a proud sponsor of ADIPEC, the world's leading energy conference, and considers this opportunity as an excellent platform to interact with other global energy players to discuss the future of the industry.
"Such success and long-standing economic vision is reinforced by the wise leadership of Abu Dhabi's rulers and the direction of IPIC's chairman, HH Sheikh Mansour bin Zayed Al Nahyan, deputy Prime Minister and Minister of Presidential Affairs, to ensure that IPIC Group maintains a balance between persevering as a global industrial player, whilst continuing to achieving strong returns on investments."
Commenting on the decision of Abu Dhabi Government to merge IPIC and Mubadala, Al Mazrouei, noted that the merger between IPIC and Mubadala is a further step in the company's development, and will create a global investment champion that acts as an engine for sustainable economic development. The combined entity will give Abu Dhabi a competitive advantage on an international stage, and at the same time, provide the company with investment opportunities that contribute to a diversified UAE economy.
Today's challenging economic landscape often makes basing business decisions on market sentiment, rather than on fact, the safer choice – potentially missing the significant opportunities presented by those challenges, and their ability to create a more resilient industry, according to experts.
"What should be our next move? Should we look for strategic long-term investments, or should we keep a low profile until oil prices have fully recovered? Those are the types of questions that both investors and oil companies are seeking the right answers to," said Ruba Husari, managing director of consulting firm Iraq Insight.
"However, the current state of markets and the downslide volatility of oil prices feed into a climate of rumour and speculation. Major forums like ADIPEC enable members of the energy community to exchange views, debate solutions, and share perspective on the future of the industry. This helps in the decision-making process and creates a counter weight to market sentiment".
Hosted by ADNOC and organised by dmg events – Global Energy, ADIPEC 2016 will take place from 7-10 November at the Abu Dhabi National Exhibition Centre (ADNEC) and is expected to host more than 90,000 attendees, 8,500 delegates, and 2,300 exhibitors from more than 120 countries.