Honeywell has unveiled its latest ultrasonic flowmeter, the USM GT400 Ultrasonic Flowmeter, which is designed to benefit companies producing natural gas through its improved accuracy of pipeline metering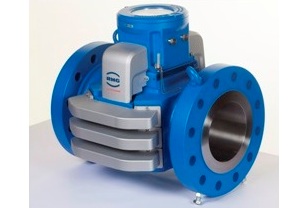 Honeywell's new USM GT400 Ultrasonic Flowmeter
The new model measures the volume of gas at every stage of its journey from the plant to the customer, which according to Honeywell is a valuable attribute considering that the volume of gas is metered for billing purposes.
Tony Tielen, vice president of Honeywell Process Solutions' Engineered Field Solutions division, said, "As the natural gas industry continues expanding, companies have a tighter margin of error when it comes to lowering operating and capital costs, improving uptime and reducing risks."
The USM GT400 achieves improved metering accuracy due to its key features, such as multi-path measuring technology, field-proven electronics, sophisticated diagnostics, and a user-friendly interface.
Additionally thanks to its direct-path technology with six measuring paths on three levels, Honeywell's new flowmetre can provide its users with stability during flow perturbations.