Fishbones, a provider of alternative reservoir stimulation technology, has announced the opening of a new office facility in Abu Dhabi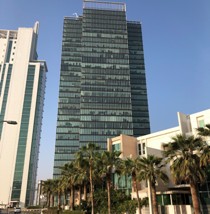 The new hub will include a maintenance and storage facility, ensuring the company can mobilise quickly and reduce the lead time for customers in the region. (Image source: Fishbones)
Located on Al Mariyah Island, the new regional hub will support the company's ongoing business growth in the Middle East following increased activity in the area. Its location will provide Fishbones' customers with a specific local focus and on-site support.
The new hub will include a maintenance and storage facility, ensuring the company can mobilise quickly and reduce the lead time for customers in the region.
Eirik Renli, CEO of Fishbones, said, "Today's announcement illustrates the increase in activity that we have seen across the Middle East during the last 18 months, while highlighting our commitment to the region. With over 20 wells completed across the Middle East to date, our technology typically more than doubles production for operators in the region. Not only will this regional hub support our existing customers, but it will also provide the platform for future growth as we seek to expand our unique reservoir stimulation approach to operators in the region."
Typical geological characteristics in the Middle East saw tight and layered carbonates, often with poor vertical communication. The use of Fishbones' technology can overcome these challenges by ensuring single well access to multiple producing zones using an open hole liner completion.
Fishbones' patented technology deploy subs with Fishbones needles, which are run on a reservoir liner string to work in partnership with its Backbone open hole anchors and activation shoe. These components mean that successful needle systems can be installed and maintained while in the reservoir.
Several laterals are then created simultaneously in a short pumping operation by means of either drilling or jetting, depending on the type of formation presented.
The precisely distributed laterals penetrate the formation, bypass permeability barriers, connect to natural fractures, bypasses the damaged zone and increase the effective wellbore radius.
Wissam Chehabi, director of Fishbones, Middle East, said, "Fishbones Middle East is looking forward to continuing to meet the requirements of our customers in the area. The results achieved have been highlighted through multiple SPE papers which show proven increases in production in multiple types of pay zones, both tight and layered."