Dropsafe has found that oil and gas (O&G) firms may be exposed to significant unseen long-term costs in their procurement of health and safety equipment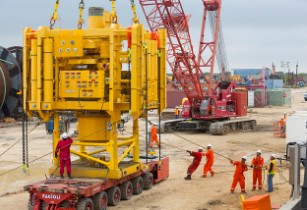 HSE decision-makers still lack a clear point of comparison between the available safety nets and barriers products. (Image source: BSEE/Flickr)
Dropsafe, a supplier of dropped objects prevention technology for the energy and resources markets, has launched Slipping Through The Cracks: Why cost should not be a barrier to dropped object prevention.
The company stated that this new whitepaper uses one form of essential dropped object prevention technology, the safety barrier, as a case study on how short-term equipment and installation costs for safety products can be far outweighed by long-term maintenance and reinstallation expenses.
Critically, it provides a transparent assessment of how market-leading barrier solutions stack up against each other in terms of upfront cost, quality and long-term maintenance requirements.
Dropped objects, defined by Drops as any material or object of any mass or density which falls from its previous position, pose a prominent, but an under-reported risk to the safety of personnel, and the financial and reputational standing of oil and gas businesses.
IMCA reported in 2017 that dropped objects constitute one of the top five causes of offshore lost time injuries, but the quality and consistency of incident reporting remain an obstacle to understanding the true scale of the threat.
Dropsafe points out that this lack of understanding is paralleled by a lack of clear advice and guidance for the prevention of dropped objects. While there are moves towards standardising vital technologies such as safety nets and barriers through schemes such as the ABS DOPP+ programme, HSE decision-makers still lack a clear point of comparison between the available products.
Barrier systems are now commonly installed across on and offshore oil and gas, attaching to guard railing upon elevated walkways, stairways and access ways of either permanent or temporary structures to prevent loose items falling from a height.
Dropsafe finds that barrier solutions that are considered to be most cost-effective in the short term may incur the highest long-term costs. For example, flexible mesh netting has a very low upfront cost, but requires routine maintenance and full replacement on a regular basis, leading to significant long-term financial impact if deployed for a period of five years or more.
The report added that welded metal solutions are vulnerable to corrosion and their installation requires hard work, which can lead to significant downtime of the rig.
"Barrier products provide a striking example of how the installation of HSE equipment must be seen as a long-term investment, rather than a one-off solution to meet an immediate need," said Mike Rice, commercial director, Dropsafe.