Victoria Kalina, Reflex Marine's global business development manager, discusses the company's plans and the factors that have contributed to its continued success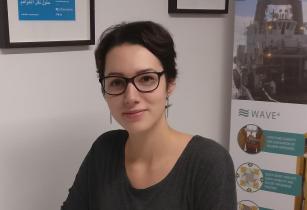 Victoria Kalina, global business development manager, Reflex Marine. (Image source: Reflex Marine)
Reflex Marine has grown substantially over the last few years. What would you say were the driving factors behind this development?
The company was established in 1992 with a clear mission: to improve the safety of offshore workers and to help ensure they always return home safely. This goal was a driving force behind the company's growth for years, and led to the development of the safest crew transfer devices available on the market today. Our products are an industry benchmark that has influenced worldwide change in the standard of offshore personnel transfers. Over the last 25 years, Reflex Marine significantly contributed to increasing the safety of this type of operations, but we haven't stopped there – we have a vision of improving safety in the offshore industries further.
Managing how businesses create, store and share their information is key to their success. What would you say Reflex Marine do as part of their knowledge management activities?
As an innovative and ambitious company, we collaborate with a wide range companies in collecting data, actively analysing the needs of our customers and developing new products and solutions. We offer open access to a lot of this data through our website. We also share our knowledge and experience through joint projects and at events. We firmly believe that knowledge transfer and engaging in open discussions are the main factors that lead to disruptive ideas, innovative developments and business growth. They certainly stimulated our growth over the last four years where we continue to nearly double our revenue year on year and expand our reach globally, opening new countries and new markets.
How does a small company ensure consistent standards across its offering while continuing to focus on growth?
We understood the challenges that are inherent to the fast-paced global expansion of our business. We knew that we needed to ensure that Reflex Marine kept offering the highest standard of services which go beyond just product delivery. After all, we provide 365 days a year support to all our customers as well as training, maintenance and servicing support anywhere in the world. We managed to maintain the highest level of this extensive range of support services thanks to our network of Approved Service Centres.
The well-established partner network is key to the effectiveness of our international expansion. We have agreements in place with global partners in related industries such as safety equipment or crane maintenance: Survitec Group, EnerMech and Viking Life-Saving Equipment. In some locations, we've identified a greater need for local expertise and we've also engaged with independent companies, e.g. in Brazil or Malaysia. We value both types of partnerships, as each offer different skillsets and abilities. Particularly in Asia, this business model has proven extremely effective, and our close collaboration with local partners has helped us improve our understanding of the needs of our customers in the region.
Are there any new projects in the pipeline for Reflex Marine?
Yes, we continue to innovate and look for gaps in the market which we can help fill. We've recently brought to market a new product: STORMWORK, a unique work basket for suspended works at height. For Reflex Marine, this is an area of the industry previously unexplored yet very familiar. Similarly to the personnel transfer carriers, with our design we've raised the standards of safety of this type of operations. This has already been recognised by the market, as we've been nominated for the Lifting Equipment Engineers Association Award in the Safety Category. We are waiting for the results.
The STORM-WORK actually has an additional connection to Asia specifically. We've designed the work basket in collaboration with Seaway Heavy Lifting (a Subsea7 company). However, the development of the concept was also supported by ConocoPhillips. They have been our first client for the STORM-WORK, and we've designed a customised version of the work basket specifically for their projects in Australia.