PELICAN™ Products, the global leader in the design and manufacture of protective cases and advanced portable lighting systems, will showcase the perfect array of products for professionals working in high-risk industries at EGYPS 2020
PELICAN protective cases and safety torches and floodlights (RALS) are designed for professionals working in oil and gas refineries, offshore platforms, mining, petrochemical, or other high-risk industries.
A selection of these solutions will be presented in Booth 3E62.
The lighting company stated that it has the right products with the highest safety certifications.
PELICAN 9455Z0, the world's first portable floodlight with three global safety certifications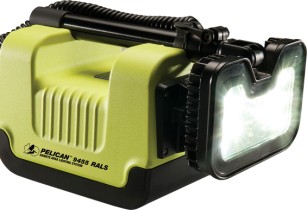 To illuminate larger work areas, confined spaces or potentially hazardous zones, the lighting company has introduced the 9455Z0 Remote Area Lighting Systems (RALS) - with three global safety certifications: ATEX European Zone 0 (Cat.1), IECEx ia and CI, D1.
Built with versatility in mind, the 9455Z0 is a compact 7.3 kg portable lighting system easy to set up. Its powerful LEDs radiate 1,600 lumens in high and 800 in low mode, which extends the run time up to 10 hours.
Powered by a maintenance-free rechargeable battery, the system offers a wide beam spread of 125º of clean energy that illuminates the entire area. Besides, it features a telescoping mast that extends to 80 cm, a 360º articulating light array and a wide handle for easy gloved grip and transport. PELICAN's RALS provide fully portable, powerful, energy-efficient and rechargeable lighting without the use of a generator.
The company claims that the need for a safe, economic and convenient alternative to generator powered lighting is answered.
The New PELICAN™ Air 1465EMS Case - The Lightweight EMS Case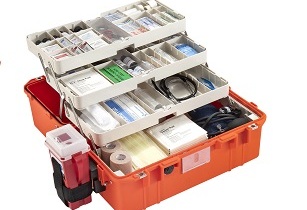 The PELICAN Air 1465EMS Case features a new three-tier, customisable, pull out tray system with reinforced stainless-steel brackets. Available in orange only, standard features include press and pull latches that have been tested to survive great pressure but open easily and a lid equipped with a polymer O-ring for a dust and water-resistant (IP66) seal. It also boasts a lockable tray section for secure controlled substance storage, a removable rugged ID card holder, external sharps bin holder and a shoulder carry strap.
To ensure stability, the case lid opens 180 degrees to form a wide base when it's being used. For added security, the top tray and case lid work together like a seal to prevent tray compartment contents from spilling out into the case while it's being transported. The PELICAN Air 1465EMS Case features an integrated automatic pressure equalisation valve that keeps moisture out and prevents vacuum lock, ensuring the case is easier to open at any altitude. An over-moulded rubberised grip top carry handle is standard with wide handles on either side.