It was a full house at the first day of the Dubai Health, Safety & Environment Forum 2019 (24-25 November 2019) with more than a hundred leading health and safety practitioners, government representatives, regulators and solutions providers convening at the Habtoor Grand Resort, Autograph Collection Dubai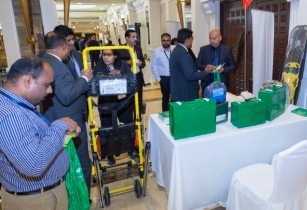 The forum also showcased the latest products and technologies in the sector. (Image source: Alain Charles Publishing)
The fifth edition of the industry-leading event saw delegates absorbing some informative presentations, participating in animated networking session and lively panel discussions. The latest safety and protection solutions were showcased on the sidelines of the event.
The first speaker of the morning, Faaeza Al Katheeri, geoscience manager, ADNOC - Al Dhafra Petroleum, held the audience in rapt attention as she spoke about effective leadership in achieving 100 per cent HSE. Her presentation highlighted interesting case studies of how HSE culture at organisations is a top-down process, fostered by collaboration and open communication.
Dr Mona Shawki, specialist of occupational medicine, Ministry of Health & Prevention, took to the stage next to highlight the global challenges to occupational health and safety - currently, more than 374mn people are injured or made ill every year through work-related accidents. She also spoke about the strategies devised by the ministry to improve safety and health coverage for workers.
The next speaker Cherian Varghese, founder and CEO, VIN Technology Systems, focused on how collisions in the construction industry can be avoided with new products that save lives and billions of dollars.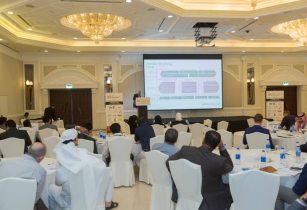 Salman Dawood Abdulla, executive vice-president - HSSEQ, Emirates Global Aluminium, was the fourth speaker of the morning. In his presentation, he delved into the human aspects of HSE - how leadership and a motivated workforce can help enhance industrial safety, over and above equipment and safety management systems.
Dr Mohammed Aref, QHSE Expert, Ministry of Human Resources and Emiratisation, explored this human factor deeper in his talk. "Humans are the weakest link in the sophisticated and complex systems that protect us from catastrophic process safety events," Dr Aref explained. "The next step change in process safety is likely to come from a growing awareness of how to analyse human behaviour and design management systems to minimise its risk."
Another professionally enriching and informative session on BCSE certifications for safety professionals followed. "The need for safety exists at all levels of an organisation; thus BCSP certifications help to promote safety competence at all levels, said Subba Rao Palagummi, ambassador, Board of Certified Safety Professionals, USA.
The audience got to hear first-hand from Dr Taufiq Omeish, Sr. HSE Manager, Dubai Electricity & Water Authority, on how Dubai's utilities provider maintains the highest levels of compliance to international HSE standards.
Will Cadwaladr and Samantha Ellaby, associates, Clyde & Co, made a practical demonstration of the criminal investigation process, which may follow a workplace injury or fatality, exploring best practice and common pitfalls during the police and public prosecutor interviews.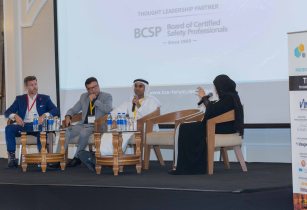 A lively panel discussion on current HSE issues facing the workforce and safety professionals saw great participation from the audience and the panellists: Dr Ola Ahmed Mira, specialist physician, Association for Neuro-Linguistic Programming (NLP), Dr Ghanim Kashwani, post doctoral associate, New York University, Abu Dhabi, Joyveer Dutt, Regional Manager QHSE, Al Futtaim Engineering, Emmanuel Uwalaka, regional administrator, Occupational Safety & Health Association and Dr Adrian Costigan, managing director, A-Safe Middle East
One aspect of the Dubai HSE Forum that made it content-rich, inclusive and informative was the inclusion of academia to provide a different perspective to the industry event. Dr Ghanim Kashwani, post doctoral associate at New York University, Abu Dhabi, discussed the ramifications of Industry 4.0 on safety mindsets in the construction industry.
The forum also showcased the latest products and technologies in the sector. Ian Hume, sales director MEAIR, JLG Industries presented access solutions offered by his company to drive safety. Daryl Wake, business development representative - the Middle East for Universal Site Monitoring, an Australian manufacturer of location-sensing devices presented the company's multi-featured monitoring equipment. Syed Farrukh Ali, senior territory manager, and Mohammed Jamad, key account manager at Ansell presented the company's range of protection solutions.