The Emirates National Oil Company (ENOC) Group has introduced a new fleet of trucks complying with the latest international EHS standards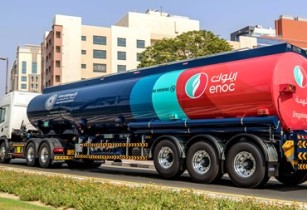 The trucks are powered with monitoring mechanisms to inspect driver behaviour such as distractions, drowsiness and use of mobile phone while driving. (Image source: ENOC)
ENOC's move is in line with its commitment towards incorporating best EHS practices for all its stakeholders.
The new fleet is powered by the latest technologies; and is certified by ADR; a European Agreement on the International Carriage of Dangerous Goods by Road. The safety features of the truck fleet incorporate cutting-edge technologies to ensure safe driving, reduce driver fatigue, increase fuel efficiency, stabilise the vehicle and prevent accidents.
The tanker body is made of aluminium, which increases the operating efficiency of the fleet by 65 per cent-from 2.3 km per litre to 3.4 km. The use of lightweight aluminium reduces the stress on the truck engine and reduces maintenance costs by 22 per cent.
Saif Humaid Al Falasi, Group CEO, said, "We firmly believe the importance of adhering to stringent guidelines when it comes to sustainability and safety, and our new fleet of trucks stands true to our stance on it."
With security being one of the core pillars of Dubai Plan 2021, ENOC Group's safety policies are aligned with this vision as it implements several safety features across its operations, products and services. ENOC Group has introduced these trucks in line with the increasing fuel demand gearing up to EXPO 2020 Dubai.
The new fleet is driver-proof which means the trucks are equipped with an Electronic Stability Programme, a novel concept in the automobile industry to eliminate vehicle rollover and maintain the stability of the truck. The programme monitors the tilting tendency of a truck and supplies more air electronically into the air bellows on the opposite side to stabilise the vehicle.
The trucks are powered with monitoring mechanisms to inspect driver behaviour such as distractions, drowsiness and use of mobile phone while driving. The front camera records the entire journey and this data is used to analyse driving habits, investigate customer complaints such as rash driving and accidents daily. Drivers are also counselled and scheduled for refresher training on various topics to improve driving skills and further enhance road safety.
The trucks have Alcolock, a breath analyser system that checks if the driver is under the influence of alcohol and automatically locks the truck forbidding the driver to enter the cabin. The fleet also has smaller tyre size to maintain a lower centre of gravity; an air-filled suspension system to lower and lift the vehicle; air-filled handrails with brake interlock system and automatic reverse stopper to bring the truck to a halt at a predetermined distance before hitting with an object while reversing.