Over the years, Intersec has been a great launchpad for companies like Ejendals to offer PPE solutions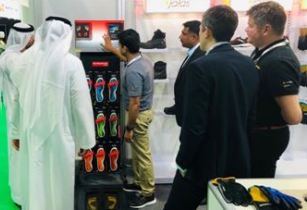 Ejendals at Intersec 2020 edition. (Image source: Ejendals)
This company though are more than that; they are unique, safe and strive for the best quality, from products, offers to service. Their main customers are those who value safety and wellbeing of their employees which resonates with Ejendals core mission which is Zero injuries on hands and feet for the benefit of the employee, the company and society.
Amit Upadhye, the regional sales director MEA at Ejendals, said, "We are overwhelmed by the response from the audience at Intersec. As this is our first time exhibiting the experience has even deepened our belief in the Middle East market."
"We were able to showcase our core portfolio of our high performance – Tegera Infinity range which was an instant success with key decision-makers and prospective distribution."
Along with a number of innovative and highly functional gloves, Ejendals also successfully launched their footwear range Jalas. And Ejendals unique proprietary insole solutions was an instant hit amongst visitors.
"Being at a foot pressured exhibition we offered our insoles for free, resulting in many thanks for relieving agonising foot pain." Amit continued. The receivers of the unique insoles immediately requested business meetings post-Intersec in order to introduce the proprietary solution for their other employees. This as most companies in need of PPE products experience similar issues amongst staff due to uncomfortable safety shoes.
With this flying start in the Middle East, Ejendals will strive to offer innovative PPE solutions which will benefit the users and help organisation aim for zero injuries at the workplace.
"Given it's a well-known fact that most of these are injuries to either hands or feet, Ejendals portfolio fits the market like a glove."