Mr Thanachat Serbsinchai, Global Export Manager, Alloy Industry Co Ltd, speaks to Oil Review Middle East about the company's ambitions and operations in the Middle East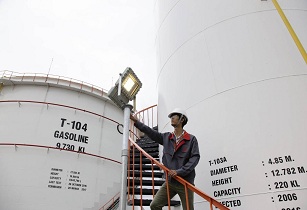 Every component is made on the CNC machines to achieve high accuracy and efficiency. (Image source: Alloy Industry)
Oil Review Middle East (ORME): How do you view the market for your products in the Middle East, and how are you looking to expand your business in the region?
Thanachat Serbsinchai (TS): The Middle East has been a hub and a major market for oil producers for years. Records have shown that oil production continues to grow, even though there is considerable competition with other regions of the world. The Middle East oil business is very stable, even with other sources of sustainable energy.
With regard to safety, the use of our product is very important for all hazardous locations, most of which are used in oil refineries, petrochemical plants, onshore and offshore plants, etc. Safety is a major concern for all related oil business. It is a great opportunity for us to expand the market in the Middle East with locals who have experience in the field and also to promote branding in the region.
ORME: Are there any particular products that you are looking to promote in the region?
TS: We initially manufactured explosion-proof electrical equipment such as
-Cables and conduit fitting,
-Enclosures
-Control stations and control panels
-Switches and plugs
-Lighting fixtures
-Fixture hangers
-Signals and alarms
ORME: How do you ensure the quality and reliability of your products?
TS: The high quality of raw material is utilised with an inspection from incoming through outgoing manufacturing process to ensure the reliability of product design and the production process. Every component is made on the CNC machines to achieve high accuracy and efficiency. The finished goods are required to pass their routine inspection and quality assurance. The reliability management system certified by TÜV CERT according to ISO9001:2015 and production quality assurance certified according to IV of ATEX Directive by PTB.
ORME: How important is research and development to your company, and are you looking to develop any new products?
TS: We will never stop developing and finding more knowledge about our products. To be modern and responsive to the demands of the global markets. With our commitment to produce "A Quality Product", this has stimulated us to dedicate more research and development to the acquisition of higher technical skills, advanced technology and even better systematic quality management, as demonstrated and evident by various certificates from local and international institutions.