Sphera, a provider of integrated risk management software, has released the annual Operational Excellence Index (OEI) survey report, which highlights trends in digital transformation and OE strategies across the hazardous industries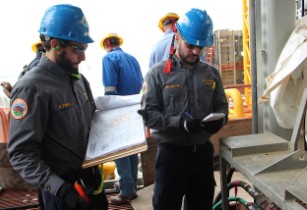 Sphera's survey revealed that digital transformation fuels operational excellence, but many companies are still trying to figure out what digital means for them. (Image source: BSEE/Flickr)
The 2018/2019 survey revealed that senior leaders rely on technologies to support their OE initiatives and identify where they are short and what they can do to improve.
About 90 per cent of respondents agreed that digital transformation will accelerate their ability to achieve OE–not just as a one-off target, but as an ongoing business objective. The company said this is a significant increase from last year's report, in which 73 per cent of leaders agreed that digital technology is vital to OE.
The implementation of digital technologies is now aligned with overall business goals, with 55 per cent leveraging technology to reduce operational risk and 55 per cent to improve asset availability and uptime.
Paul Marushka, president and CEO at Sphera, commented, "As companies look for new ways to keep their people safe, their operations productive and their products sustainable, being able to tap into and monitor data from Industry 4.0 solutions will be a major differentiator for organisations looking to separate themselves from the competition."
"It's not surprising that 90 per cent of respondents agree that digital technology will accelerate operational excellence. Sphera believes digital is the wave of the future for operational risk mitigation," he added.
But while industry leaders agree that digital is essential for OE, more than half are still trying to figure out what 'digital transformation' means for them, and 69 per cent are just beginning their digital journey, the report stated.
The approach to digital matters, according to 83 per cent of survey respondents, who admitted that they have relied on legacy systems to improve their business agility but have not embedded operational best practices cross-functionally.
About 75 per cent of leaders recognised the need to create new, insight-driven business processes across enterprise functions. Advanced analytics and digital twins have been highlighted as major solutions to help operators understand how to make better, safer planning and operational decisions.
One survey respondent suggested, "The best approach to digital is not to use technologies to close gaps that you know already exist. Rather, start with a blank sheet of paper and define what you need–and then assess the available technologies."
Register & download the full report