Safety equipment manufacturer Brady Corporation offers a range of BS5609 certified, high-quality label materials to identify chemicals and other goods in marine environments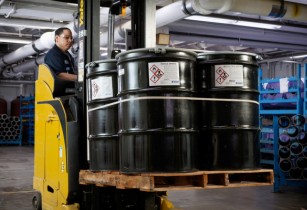 Brady's BS 5609 certified label materials can be a great identification tool for any company. (Image source: Brady)
The marine label materials offer high saltwater durability, great UV-resistance and an excellent adhesive and are a great addition to Brady's wide range of durable label materials for harsh environments.
Durable marine identification
BS5609 certified label materials are rigorously tested, including a three-month exposure to saltwater at mid-tide, to ensure performance in marine environments. The standard offers criteria for adhesive performance, print permanence and abrasion resistance. Where many labels fade, become unreadable or even fall off because of saltwater and sunlight, Brady's marine labels remain legible and stay attached.
Marine environments
Brady's label materials B-595, B-7569 and B-7541P have all received the BS5609 certificate. They are ideal to identify IMDG goods and dangerous chemicals with the required CLP-labels, and can also be used to create durable safety and evacuation signs and pipe markers.
Brady's BS 5609 certified label materials can be a great identification tool for any company operating in marine environments, including companies in:
-oil and gas
-off-shore power
-shipping
-logistics
-dredging
Printable at your location
The BS5609 certified label materials B-595, B-2585 and B-7569 can be printed at the client's location using a quality sign and label printer from Brady, such as the BBP35, BBP37, BradyJet J2000 or BradyJet J5000.
Labels with black and red print on white backgrounds, like CLP-labels, can easily be created with these printers and Brady's CLP-app in port, at sea or off-shore to address ad hoc identification needs. Other applications, such as full-colour safety signs and pipe markers, can also be printed on-site or at the Brady factory.
Discover the high quality, BS5609 certified label materials for durable identification in marine environments. Request free samples!