In Dubai and across the Middle East, safety standards are becoming increasingly regulated in order to protect the workers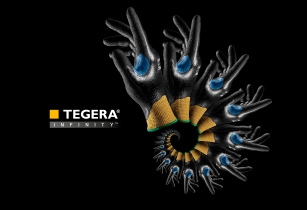 An example from the Tegera Infinity range of safety gloves. (Image source: Ejendals)
This is something welcomed by Swedish premium PPE company Ejendals, which is uniquely positioned to meet these strict regulations with its carefully designed and certified safety gloves and shoes.
Amit Upadhye, regional sales director, Middle East and Africa, Ejendals, said, "Investing in safer workplaces makes companies perform better and strengthens trust and confidence within the organisation. It's a sign that you as a company put workers' safety first.
"This is in our DNA and our presence in the region is also in response to the quickly growing demand for high-quality products. Being a nimble and an asset-light organisation, we are responsive to the market's changing regulations and welcome collaboration with key customers."
Core product
A vital product in Ejendals' Middle East venture is the Tegera Infinity range of safety gloves. A good safety glove should feel like a second skin and be as protective as plate armour. Ejendals is proud to offer safety gloves that satisfy workers' demands on comfort and flexibility, while also providing unparalleled protection against fluids, heat and sharp materials thanks to its unique coating.
Ejendals' products are always tested in very tough conditions so that they never underperform in real situations where maximum protection is required. The Tegera Infinity glove is perfect for work in oil and gas, petrochemicals, manufacturing and mining.
"Each glove in the Tegera Infinity series has been engineered with a specific work environment or application in mind. That is how we achieve such a high level of protection without sacrificing comfort and dexterity for the user. The common denominator for all the Infinity series gloves is the excellent fit, which is something that our development team has worked hard to achieve," continued Upadhye.
Ejendals is a family-owned company based in Leksand, Sweden, which has produced premium quality PPE products for more than 70 years, spanning three generations of the family. The company has a vision of zero injuries to hands and feet.