As part of its efforts to strengthen ties and forge new trade links with the UAE, the Welsh Government is supporting twenty-one businesses during this month's week-long trade mission to the country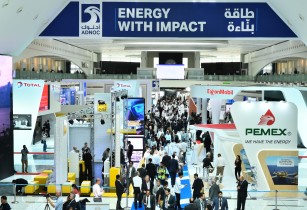 Around 58,000 people work in the energy and environment sectors in Wales, generating over US$61bn in revenue. (Image source: ADIPEC)
Businesses from the energy and environmental, technology and manufacturing sectors of Wales are attending the Abu Dhabi International Petroleum Exhibition & Conference (ADIPEC) 2019 to network, exchange knowledge and develop business relationships with UAE companies.
The conference is currently being held at the Abu Dhabi National Exhibition Centre (ADNEC) from 11-14 November, with twelve Welsh trade mission companies exhibiting at the Wales stand (8560) which is part of the wider UK Pavilion in Hall 8 for four days. Representatives from an additional nine Welsh companies are attending as delegates.
Eluned Morgan, Welsh government minister for International Relations, said, "Wales has a rich history of innovation and a thriving culture of enterprise, which we look forward to showcasing throughout this trade mission to the UAE. The quality and number of businesses we're supporting on the trade mission reflect the strength and depth of Wales' energy and environment, technology and advanced manufacturing industries, and ADIPEC 2019 will provide an ideal platform to highlight what these twenty-one companies have to offer.
"With its dynamic, rapidly growing and open market, the UAE is an important trade partner for Wales and strengthening ties between our two nations is a priority for the Welsh Government.
"As part of our ongoing efforts to ensure that Wales' diverse industries continue to flourish and grow, we remain fully committed to selling Wales to the world. This trade mission is a valuable opportunity to highlight that Wales is very much open for business and keen to further develop its trading relationship with the UAE."