Completions firm Vulcan has underlined its commitment to the Middle East by announcing plans to expand its team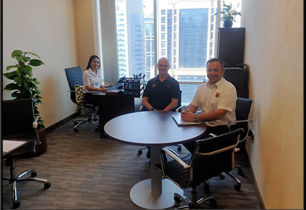 Ruby Bedrejo (Dubai-based Admin Manager), Ian Kirk (Founder) and Rauf Aliyev (Caspian Regional Manager). (Image source: Vulcan)
Based at Westhill, Aberdeenshire, Scotland Vulcan Completion Products (VCP) made the announcement ahead of ADIPEC as it celebrates the half-year anniversary of its regional office, located in Dubai.
Since establishing a permanent presence there, the company has experienced a sharp upward trend in demand for products and services. Regional success contributed significantly to recent news that, globally, work worth US$15mn has been won since the beginning of this year.
Specialising in design, manufacture and application, VCP draws on more than a century of combined industry experience to offer bespoke, innovative and ground-breaking solutions to explore new frontiers in application-based engineering solutions around the world. From centralisation, reamer and guide shoes to float equipment, cement plugs, stop collars and cable protectors VCP's emphasis lies firmly on being a quality service provider, consistently exceeding client expectations.
Vulcan Completion Products' founder Ian Kirk explained, "We have worked hard to create a strong network of agents and distributors throughout the Middle East and there will be a need for us to recruit more people to join our team as demand continues to grow in the region.
"The comprehensive coverage we have created through this network includes the likes of Saudi Arabia, Kuwait, Qatar, the UAE, Egypt, Kurdistan and Turkey so it was important for us to set up a permanent office, close to our customers, to ensure that we continue to deliver service of the very highest standard."
Stand CN25